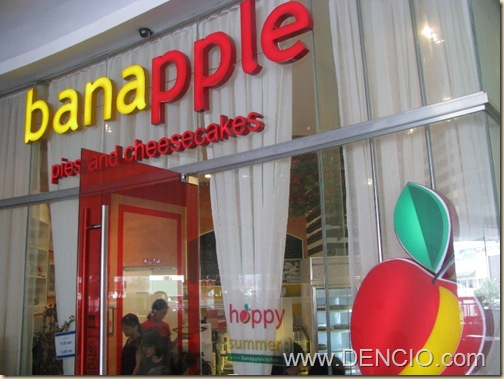 As of Now… My Super Favorite Restaurant! I mean REALLY! Too bad they have no branch here in the south area yet.
Inhale… Exhale… Now, I'm Calming Down…
Lets Begin!
Banapple Kitchen has two branches, one in Katipunan and One in il Terrazzo in Tomas Morato. We went to the closest branch we can find… Their branch in Tomas Morato.
I heard that they serve amazing desserts. Cheesecakes to be exact. But I was surprised that they also serve amazing Pasta and Rice Meals! OMG! the Food Was Soo Good! Inhale.. Exhale…
The place is small, they only have around 3-4 small tables inside their cute store in il Terrazzo. The staff and crew were very friendly and polite. we got there around 11AM, almost lunch time, the place was packed with people. We waited at their waiting bench outside the store while looking at their menu.
The place was very homey, it really feels like you are in someone's kitchen. It is very relaxing and cozy. They have colorful interiors. The tables were colorful as well as the other decorations around the store. The table setting was simple and neat. A truly refreshing place to eat.

I am so excited to eat! Please let us in! After around 15 minutes, finally it was our turn!
While waiting for our turn, I saw this pasta dish that looks sooo good that unintentionally my eyes were glued and was following the plate as it was being served on the table of the other customer. I immediately asked one of the crew what was that… she told me.. that was the Roll-up Lasagna! OMG! I must have that!
I must tell you, all the food that I have tried was great! Will remind you of Home Cooked Meals!
TASTE + SERVING SIZE + PRICE + GREAT SERVICE= PERFECT! :p

Mango Smoothie P85 NET! Soo Good! Tastes like Ice Cream! Super Creamy!
Actually, I was torn between choosing this one and the Dark Chocolate Shake P90. But I love Mango More than my Dark Chocolate! :p
MY FAVORITE: Lasagna Roll-Ups P145
Herbed cream and Parmesan cheese-filled al dente lasagna and smothered with classic tomato meat sauce and mozzarella cheese!
2 rolls of Lasagna and 2 slices of garlic bread, this dish is good enough for two people. But for Me… It is Good for Me! Hehehe! :p
OMG! So Far, The best Lasagna in the whole wide world for me! Rolled-up Lasagna Noodles filled with cheese then topped with their super delicious meat sauce! I can eat this everyday For the rest of my life! Hahahaha! It is a Must Try!
Hickory Smoked Barbeque Country Ribs P155
Extra Tender Country Ribs grilled in hickory smoke, glazed with their homemade barbeque sauce. Served with corn relish and Garlic Rice.
Another super good entry from Banapple! Super tender, Juicy, Flavorful! Just Good!
Terrific Tuna Sandwich P100
Mounds of creamy tuna salad topped with cheese, lettuce, and special dressing! YUM!
If you love Tuna Sandwich, You will love this one!
Salpicao Rafael P160
Tender Rib-Eye Cubes with Sliced Mushrooms, Perfectly seasoned and smothered garlic pieces and their special brown sauce, served with buttered carrots. Mmmm!
Pan-Fried Pork loin with Herb Mushroom Gravy P160
Juicy Pork loin steak seasoned with special herbs, pan friend in olive oil, and smothered in a thick mushroom and herb gravy, served with glazed carrots.
Chicken Breast Parmigiano P160
Tender chicken breast fillet encrusted in a parmesan crumb mixture topped with a rich stewed tomato sauce and melted mozzarella, served with buttered carrots!
Now The desserts… Want can I say?! They were all GOOD! I managed to try 8 of their Cakes, but there were still a lot more left to try! My Favorite?! Hmm.. The Apple Caramel Crumble Pie! It is apple pie to the next 10 levels! hehehe! :p
Their cake slices can be shared by 2-3 people! 🙂 That is if you want to share it! :p
So Many Cakes So Little time!
Apple Caramel Crumble Pie P80/Slice
Banoffee Pie P70
Old-Fashioned Chocolate Cake P80
Oreo Brownie Fudge Cheesecake P90
Dark Chocolate Tiramisu Cheesecake P95
White Chocolate Truffle Berry Cheesecake P95
Fudgymudgymud Pie P80
Strawberry Crunch Cheesecake P80
Like I said, So many Cakes So Little Time! There's still a lot, lot more for next time!
Here is the Menu of Banapple Kitchen (From their Website)
Have you noticed that I have not presented any pies yet? I suppose it slipped your mind having seen those wonderful cakes!
If the cakes were good… The pies did not disappoint either! Actually they were really good as well. For just P50 each, you get a super delicious pie as big as half of your plate! And the Taste… Ooohhh soo good! Savory! :p
You can also keep them in the freezer and eat it after 2 weeks (or more?)!! just Thaw it in the microwave then pop it in the oven to add some flakiness!
We were so full! So the pies… to go na lang! They have this cute paper bag to wrap your to go items! The packaging was so nice, you can give it as a gift for someone! 🙂
Also, They gave us free Fans! 🙂
Hayyy! I can't wait to get back to this place… 🙂
You should visit Banapple! Satisfaction Guaranteed! :p
For more Information you may visit their website at www.banapplekitchen.com
Hanggang Sa Muli! Paalam! 🙂
_________________________________
By: DENCIO
Originally Posted On: www.DENCIO.com
Email Me | Post a Comment | Subscribe to My BLOG (RSS) | Follow me on Twitter