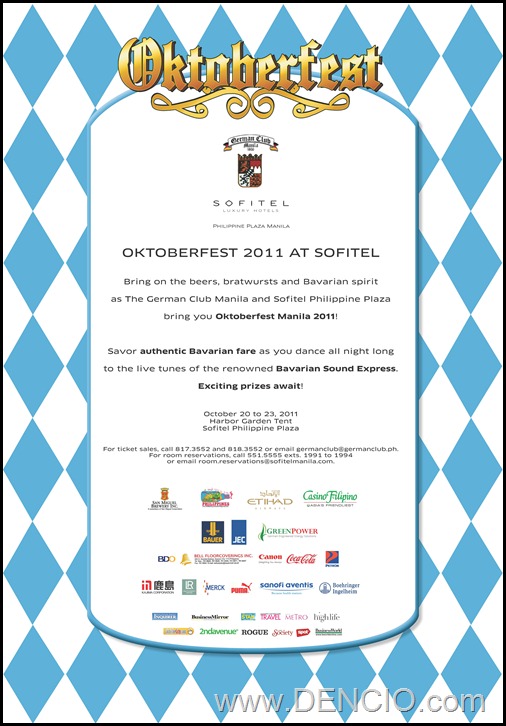 It's October! Get ready for the Hippest Oktoberfest Celebration! Time for some Overflowing Booze!
If you are looking for the Ultimate, Hippest, Coolest, and Most Exciting Oktoberfest Celebration in Manila, then you should check out and join Sofitel Manila's 73rd Oktoberfest Celebration 2011. This is not your typical Oktoberfest as this year's theme will be – Bavarian Festival! Prost!!
"Bring on the beers, bratwursts and Bavarian spirit as the German Club Manila, in cooperation with Sofitel Philippine Plaza, presents the 73rd Oktoberfest Manila on October 20 to 23, 2011! The only authentic Bavarian festival in the Philippines, Oktoberfest Manila 2011 is a celebration of traditions, entertainment, and Bavarian food and beverage spreads reminiscent of classic German folk festivals, coming to vibrant life at Sofitel's Harbor Garden Tent.

In celebration of the 201st year of the Oktoberfest, the weekend's program promises to be Manila's most memorable yet as Sofitel's breathtaking natural resort setting and amped-up offerings take the Oktoberfest to new heights. The Harbour Garden Tent will be decorated in the Bavarian colors, white and blue. Authentic Oktoberfest tables and benches guarantee a festive beer garden fair setting. Ladies in dirndls and gents in lederhosen strutting around the tent-turned-Oktoberfest village add to the heart-pumping Munich Oktoberfest vibe. Bavarian delights will make up the colorful culinary spread, such as fresh roasted pork knuckles, roasted calf, laugen rolls, grilled sausages and mouth-watering pastries, with refreshing, ice cold beer flowing freely for all to enjoy. The Bavarian Sound Express, well-known from previous Oktoberfests in Manila, will keep guests singing and dancing all night long. October the 23rd is Family Day, where inflatable bouncing castles, magicians, face painters and other fun games will regale young and old alike during Sunday Brunch. Oktoberfest Manila 2011 will take place from 6pm until midnight on October 20 to 22, and from 10:30am to 2pm on October 23.

Staying the night at Sofitel Philippine Plaza on these dates is highly recommended as special Oktoberfest rates are on offer. Guests can rest easy after the Oktoberfest festivities, after just a short elevator ride away."
Above: Sofitel's Executive Chef Marko Rankel and General Manager Goran Aleks
Below: Prost! (Cheer's) Sofitel and the German Club's Officers
This is a 4-day long celebration. Overflowing Local and Imported Beers will be served as well as tons of Authentic Bavarian and German dishes with a menu specially prepared non other by Sofitel's German Executive Chef Marko Rankel. There will also be performances by The Bavarian Sound Express Band (below). And to complete the mood, servers during the event will all be in traditional Costume.
Oktoberfest is a 16–18 day beer festival held annually in Munich, Bavaria, Germany, running from late September to the first weekend in October. It is one of the most famous events in Germany and is the world's largest fair, with more than 5 million people attending every year. The Oktoberfest is an important part of Bavarian culture, having been held since 1810. Other cities across the world also hold Oktoberfest celebrations, modeled after the Munich event. WIKIPEDIA
During the press launch of the event we were given a chance to preview the Oktoberfest Celebration Experience. From the Beer, to the Ambiance, and of course to the wonderful Bavarian Dishes that will be served. Here are some pictures. Warning! It was a Sausage Fest! 🙂
Oktoberfest Manila 2011 tickets, merchandise and goodies will be on sale at Sofitel Philippine Plaza's grand lobby from September 22 to October 23. An authentic Bavarian food festival aka "Oktoberfest Buffet" will be celebrated at Spiral The Harbor Garden Tent on From October 10 to 23.
For ticket sales, please contact the German Club Manila at:
Tel: (632) 817.3552 and 818.3552
email: germanclub@germanclub.ph
For tickets, room and buffet reservations, please call Sofitel Manila at:
Tel: (632) 551.5555 exts. 1991 to 1994
email: room.reservations@sofitelmanila.com or fbreservations@sofitelmanila.com
Sofitel Oktoberfest Ticket Rates:
German Club Member – Php 2,700 net
Walk- in/Non Member – Php 2,800 net
1 Table – Php 2,600 net / pax (1 Table = 20pax)
3 or more tables – Php 2,500 net / pax (1 Table = 20pax)
Sofitel's Oktoberfest 2011 Official Facebook Event Page, Click HERE!
You may think that the tickets are a bit pricey. Think again! Not only that you will be getting the best local and Imported Beers, Authentic Bavarian Food, Great Bavarian Music and of course, Great Company During the Event! BUT You also get a chance to Win Exciting Prices like a Round-trip plane Ticket To Germany! How's that Sound? 🙂
The Oktoberfest Buffet was originally planned to be incorporated in the regular Spiral Buffet. But because Spiral is currently under renovation and is scheduled to re-open early next year, the Oktoberfest Buffet will be held at the Harbor Garden Tent instead. Different Venue, Same Amazing Food!
This year's Oktoberfest is Sponsored and Presented by the following:
Let's Cheers To That! Prost! See you at the Event!
Hanggang Sa Muli! Paalam!
_________________________________
By: DENCIO

Originally Posted On: www.DENCIO.com
Do You Like This Post?
Subscribe to the RSS Feed
Follow me on Twitter
Like us on Facebook
Email Me
————————
Sofitel, World Class Hotels & French Elegance
Sofitel is the only French luxury hotel brand with a presence on five continents with 130 addresses, in more than 50 countries. Sofitel offers contemporary hotels and resorts adapted to today's more demanding and more versatile consumers who expect and appreciate beauty, quality and excellence. Whether situated in the heart of a major city like Paris, London, New York or Beijing, or nestled away in a country landscape in Morocco, Egypt, Fiji Islands or Thailand, each Sofitel property offers a genuine experience of the French " art de vivre".
Website: www.sofitel.com
Facebook: www.facebook.com/sofitelmanila
Twitter: www.twitter.com/sofitelmanila