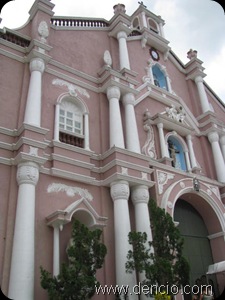 We Went to Villa Escudero last April 26, 2008. It was only a day tour but it was a lot of fun. We never expected that it would be this enjoyable. For only 1K+ pesos, we were able to have a great time and eat great food by the waterfalls! Here are some of our pics, for the complete set, you may go to www.dencio.com and click on the photos link.
First stop on the tour was the reception where they gave us welcome drinks (sago-gulaman) and handed out our tour tickets.  Then we were on to our first destination the museum. The Museum looks like an old church and it houses different items from the Spanish times. and also it holds the Floats for the Stations of the Cross parade. Picture taking wasn't allowed inside the museum so we got no shots from the inside…
Next stop was the House inside Villa Escudero, tourists are not allowed inside.
It was almost lunch time so we took the carabao ride to take us to the dining are which is situated below the man-made falls along the river.
The food was ok, it was a buffet with different Pinoy Foods like Caldereta, Liempo, Pansit, Banana-Q Etc. The drinks wasn't included in the package and costs Php 70 for the fruit shake and Php 30 for the Coconut.
Fruit shake by the falls with cold fresh water running through you feet… The Best!
After the meal, a little picture taking on the Van…
Then we head off to the Lake where we can do Bamboo Rafting…
Bamboo Rafting is So much FUN!!
Ariah!!
First round, with Cristy. Di sya masyado nakalubog…
Next round, with elli. Naku Titanic! Sira siguro ang Balsa!
After Rafting, Ikot Ikot muna tapos picture picture…
Ray Gunnnn!!!
Garote!
Tapos mag-ikot… Biking Naman! Ang saya-saya mag bike sa hindi sementado!
During biking, bumaba para mag picture pa din….
Sakay Na!
Uwian na, and it was dinner time so we dropped by Kusina Salud in San Pablo.
Again, We never thought that the Day tour will be so much fun. We could have stayed the night as originally planned but unfortunately they were fully booked because it was such a short notice.
Next stop, ILOCOS! I'm so excited!
Until then!