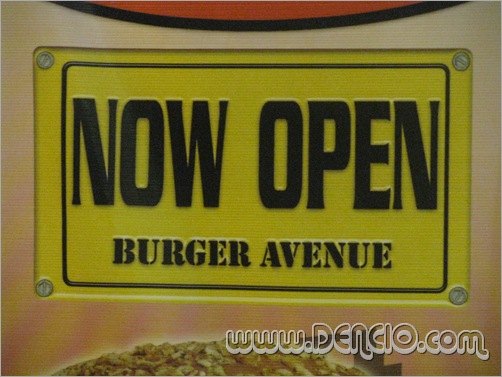 After Shooting up our Blood Sugars to death on the Chocolate Buffet, we thought that we needed something else to eat. So, we decided to go to the newest hangout in Makati… Just Along Makati Avenue, The A-Venue Mall… Where we found the Newest and Hottest Burger Place in Town, Burger Avenue… :p
Burger Avenue is located on the A-Venue mall, Open 24/7, and they serve really good burgers. The Place is quite small but clean. They have a self service counter and the staff were very polite and friendly. The burgers are served grilled so less guilt there (maybe) :p
Burger Avenue has a "Ridiculous Burger Challenge" where anyone who can finish their Ridiculous Burger, A Burger with 3 Burger Patties priced at P255 (See Photo below) in 5 minutes or Less, gets their burger FOR FREE!! (see Photo below for the mechanics). I did not take the challenge because I was still full that time. But I think I can do it, perhaps next time! when I am ready!! :p
I must say, their burgers were really good!! Although it came on a bit hefty price tag, but It was worth every penny! Personally, their burgers are better tasting than Burger King, or even McDonalds.
By the way, one unique thing about their burgers is the buns… The bun is very tasty and very firm. And Instead of having sesame seeds on top of it, theirs has oatmeal :p
Here's the Menu of Burger Avenue. This Place is Really a Must Try!
I would love to Go back to this place! I hope they open a branch nearby…
Perhaps Las Pinas or Alabang Area… :p
By: Dennis Christian Angulo
Originally Posted On: www.DENCIO.com