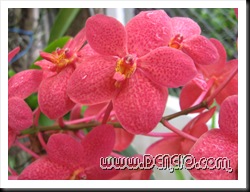 Part 1 – How We Got There!   |   Part 2 – Nature Tripping!   |   Part 3 – Let's Go to the Beach!
Rise and Shine!
It was the last day of our 4-day thanksgiving vacation in Romblon… But luckily for us, there's still more in store for us. According to our Itinerary we will be doing a "Morning Walk"…
Now What is actually done in a Morning Walk? I have No Idea… :p But I'm sure it would probably include a lot of walking 🙂
But Before the walk… Breakfast!
After Breakfast.. The "Walk" started…
But before actually walking… I get to Ride A bike first! I love biking.. especially on a rough road… It was so much fun! I think the last time I was able to ride a bike was when we went to Villa Escudero last May… I really missed biking… so.. This moment was a blast!
Next part of our morning walk… A Carabao Ride! 🙂 How Cool is that?! I spent a lot of time in the province growing up but this is actually the first time I get to ride on A real Carabao… It was a bit tricky and need a bit of flexibility and balance… 🙂
Next part of our morning walk… The Tree House! The house of the barangay captain has a tree house… we asked permission if we can take some shots on it… and he said OK! :p
Next Stop… The Duck's House! :p
And then The Rice Field… Again…
And Then the walk started… The prior activities really diverted our attention away from the actual walk… but now that we were doing nothing but walk.. It was then that we realized that we have actually walked so far from home… and the way we took going back was the other way around the barangay… so literally we were able to go around the barangay walking… According to Marlon… that was more or less 2 KM walk… What an Exercise! :p It was so tiring yet so much fun!
Finally! We got home at around 9AM… Time to rest after that Long long Walk around town… So we stopped and played some cards.. :p
And then… It was now lunch time!
After Lunch… Time to pack our things and be ready to move out at around 2:30 PM… After packing we still have some extra time so we were able to go to the backyard to pick some kalabasa. We did our Final Preparations… got to get ready to go.
But before leaving, it was time for some merienda… which we RUSHED!! I mean RUSHED! because the Jeep was already here to fetch us.. It was a bit earlier than expected.. and the worst part was.. it already has passengers… to technically while we were eating.. they were literally waiting for us to finish which made us very conscious and uncomfortable…. so after that rush snack… Time to say Goodbye! Then we were off to the Pier…
The ride to the pier was going well… until.. Poof! We had a Flat Tire! I guess Luck was really not on our side! Good thing they have a spare tire and were able to change in about 15 minutes…
It's too bad that all good things must come to an end… but We still had some adventures Going home!
Part 5 – How We Got Out!
By: Dennis Christian Angulo