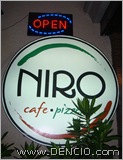 Unfortunately, It's not! :p
Another Birthday, Another BF Foodtrip. Again, thanks to Jussy for the Treat!
This time around we were lured to Niro Cafe-Pizzeria, another pizza house in Aguirre St. which serves pizzas up to 30" in size! How Cool is that… This Resto is located right beside Tides Bar… Actually, they literally share the same building…
Now, lets try their food! And of Course, the 30" Pizza!
The Place…
Nothing Special About the place… No fancy lights, table setting, or Music. Just plain wooden tables and chairs. As I have said, Niro is literally right Beside Tides Bar… only one door separates the two establishments. Meaning, don't expect peace and quiet, you can hear the bar's music anywhere (at least at night). Also, since it is right beside a bar, the air sometimes smell like cigarettes… If you are looking forward to a good conversation, this place is not recommended. The waiters were not that attentive and friendly, rarely smiles. The place is not that well attended, most of the time the waiters were roaming around Tides bar… I am not sure, but It looks like they share resources :p We have to find a waiter and call their attention a couple of time to ask for service… The Tables were not set-up… There were no placemats and utensils… Also the Place is just small, there are less than 10 tables inside… reservation is ok especially if you are coming in a large group. Credit Cards are accepted.
"Medyo malabo yung ibang pictures… May dumi pa kasi yung lens ng camera ni Pilits..hehe!"
The Food…
Time to try the Food…
This Mozzarella Sticks are good, as well as the ranch dressing… although I'm not sure if it was a ranch dressing… It tasted like something else… but it was good…
Now, these shakes… I ordered the mango shake… I was disappointed! It did not taste like mango! :p I asked the waiter if it was fresh and she said yes.. the shake was full of ice and sugar… barely any mango in it… It tasted like the mango shake you can buy at Lozada market in Moonwalk for 10 pesos… Sorry but it really tasted like it :(  I just hope they don't serve mango shakes like this often. perhaps because mango was not in season… I did not taste the watermelon shake… but according to my friends… it was ok, just a bit sweet.
Another good appetizer.. The buffalo wings, it was tender, tangy, sweet, spicy, great! It also comes with a ranch dressing similar to the mozzarella sticks…
This Pasta is one of their specialty… but for me… nothing was special. I can cook better pasta than this! The meatball was made from ground beef… It was not flavorful at all.
This is the Asian Chicken Pasta… I guess this is their take on the Yellow Cabs Charlie Chan Pasta… For me, It was not even close! Another one of Niro's specialty (according to the menu).. and again, nothing special here…
Now The Pizza, this is what we came here for… we ordered it in 4 different flavors to try them all. It was ok… ok as in edible. It was kinda dry and when you leave it out for a while, the crust tends to become tough… But in fairness to this pizza, it was quite cheap for the size… It was only P1,450 for 30"… If I am not mistaken the pizza this size in shakeys costs almost P3,000 pesos…
I tried all four flavors, and among them I found the Hungarian the best… maybe because of the sausage they used in making it.
The Menu…
Clearly, this place needs some improvement – Service, Food, and Place. There are other great Pizza house in BF like Chi's Brick Oven Kitchen and A' Venetto Pizzeria (which I was able to try just recently). I would not probably visit the place again anytime soon 🙁
Next stop… Flaming Wings! :p
By: Dennis Christian Angulo
Originally Posted On: www.DENCIO.com