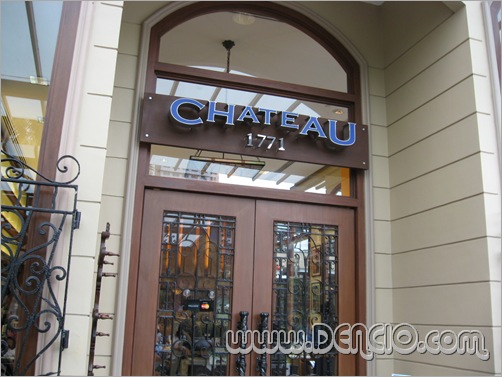 Birthday ni Jussy, mag-ttreat daw sya… pero actually, si miss angelica lang ang treat nya… kami ni yeye… KKB :p Pero ok lang… hehe… So Lunch out kami sa Greenbelt 5… Ikot-ikot until nakaoili na kami ng resto… Chateau 1771… The price? A bit hefty… but It was worth it… The Food was great, the place was very nice and sophisticated, fast and great service… and did I mention the food was great… and the servings were BIG!
Pasta Chorizo (P390.00). House Specialty, Spaghetti tossed with a reduced chorizo sauce with parmesan cheese. This dish is very good… however, it was also quite oily… but if you don't mind a bit of free lip-gloss… this is a great and unique pasta dish!
Pan-Fried Chicken with 3 cheeses (P380.00). Boneless Chicken Steak topped with gravy and melted 3 cheeses, served with mashed potato and ratatouille. Another Great meal… very tender and moist chicken… and cheesy of course! Just great!
Braised Beef Short Ribs (P450.00). A hefty serving of Short Ribs served with garlic rice! Tender, Tender, Tender… And Juicy! Very Flavorful!
Pork Scallopine (P420.00). Flattened Pork Steak coated with breadcrumbs and cooked in butter until golden brown served on Linguine with Napolitaine Sauce. A complete Meal… Pasta and Breaded pork in one meal! Tastes great and very… very hefty serving!
By: Dennis Christian Angulo
Originally Posted On: www.DENCIO.com