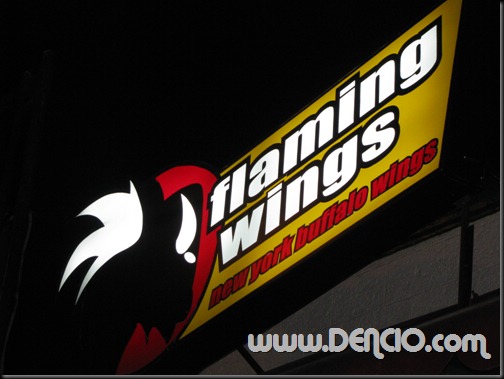 Another Year another birthday celebration for Elli… I can still remember last year's celebration when we realized that a full year has passed. Drama! :p Well, Pressured sya manlibre kasi may peer pressure…. hehe! :p So Sa tradisyon ng pag-lalaboy sa Aguirre St. Sa BF… Sa Flaming wings kami napad-pad… Maliit lang yung place kaya nagpareserve kami… 13 kami lahat, sa liit ng place eh parang sinakop na namin yung kalahati… hehe! :p
Flaming wings in BF is a nice small place across Aguirre St. It could probably seat less than 50 people.
Pag yellow ang basket = Original Flavor, Pag Black Caribbean Jerk…
6 Different Dips: Bleu Cheese, Honey Mustard, Ranch, Aioli, Balsamic Mayo, and Wasabi Mayo.
BEWARE: Red Basket means these wings are FLAMING WILD!! I Mean Really! Tutulo ang sipon mo sa unang kagat! hahaha! :p
Mashed Potato na walang Gravy pero ok lang kasi masarap naman sya, creamy and flavorful. meron pang parang potato strings na toppings! Great with Wings….
Bleu Cheese Pasta!!! Must Try…
Bolognese, a classic pasta sauce that never goes wrong.
Sana root beer float na lang inorder ko, boring kasi yung mango juice eh! :p
Eto na! who would have thought that this place serve GREAT DESSERTS!
Grabe!! Parang mag Le-Level na sa Brownie Ala Mode ng Chi's Brick Oven Kitchen! YOU MUST TRY THIS!
Wicked Oreos, para syang cream puff tapos may oreo cookie sa loob then topped with scoop of vanilla ice cream (Big scoop yung brand ng ice cream nila) served hot!
Can't wait to try these again!!!
Ayan o may oreo sa loob…
Ayan a BIG scoop of vanilla ice cream loaded with cereals, springkles, and choco syrup.
eto pa isa.. if you love apple pies, you'll love this dessert!!!
And another! Brownie ala mode…. chewy, moist brownie topped with a scoop of vanilla ice cream!
Next Stop: Tarragon Restaurant (In front of Flaming Wings, right across Aguirre St.)
Flaming Wings Menu
By: Dennis Christian Angulo
Originally Posted On: www.DENCIO.com