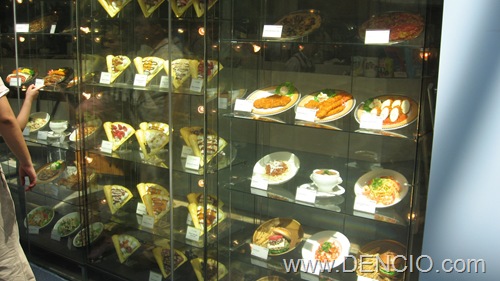 One sunny day, I was in Mall of Asia and I passed by Tokyo Cafe and saw this display on their window…
The food models looked so good and that made Tokyo Cafe one of my next target.
So, one lazy Saturday afternoon… Go! Go! Go!
Tokyo Cafe is Located inside Mall of Asia. I forgot which wing but it is located in one of the entrance on the side. As I have said, they have this display of food models in their store which makes me so excited to try them. They all looked so yummy, I just hope they taste as good as they look. So… It's Time.
A chicken dish similar to cordon bleu… ham and cheese rolled inside a chicken breast and deep fried till golden brown. Crunchy on the Outside, soft and juicy on the inside… This is one of their best sellers. And Now I know Why…
They serve it with a delicious potato salad on the side…
Mmmmm… So Cheesy! :p
I can't tell why this is a Japanese Fried Chicken. But even so, it still taste good. Crunchy skin outside and juicy tender chicken on the inside…
The gravy is ok but it is not that thick and flavorful. I ate the chicken with a Ketchup! :p
Japanese Pizza? I am not sure… It looks like any other pizza out there. Thin chewy crust topped with a sweet, spicy, tangy, sauce, cheese, and chicken bits… It was surprisingly good! Still I do't get the Japanese Part but Who cares.. It's good! :p
Spaghetti And Burger Combo. The spaghetti was soo good, very meaty and flavorful. And the burger… Mmm.. so juicy! The serving is good enough for 2-3 people.
This one I am not diggin'… I want my carbonara to be rich and saucy. I am not saying that this is no good… It is ok… I just don't like it that much… Hehehe! Labo! :p
Sticky Japanese Rice…
Now, the Desserts!
It is a Mango Crepe, its just that instead of fillings, this one has toppings. The mango was really good, and the Big Scoop mango ice cream was so good as well add some whipped cream and chocolate syrup! Aahhhh! Soo Good!
Chocolate Ice Cream, Whipped Cream, Coffee Jellies, and Stick O! Gooodd!!!
Another super good mango dessert….Mangos, Mango Ice Cream, Whipped Cream, and Mango Sauce… Waaaahhh! :p
The restaurant uses big scoop ice creams on their desserts…
After Eating, I still don't realize why this place is called Tokyo Cafe… Or why is it associated with Japan or Japanese cuisine when in fact most of the food on the menu are not "Authentic Japanese" Foods… Probably because it is a modern twist on a Japanese Restaurant… Modern Interiors and Global Cuisine made with a Japanese Touch! :p Anyway, as long as the food is great, it doesn't really matter… :p
Grabe Super Sarap Dito!
_________________________________
By: Dennis Christian Angulo
Originally Posted On: www.DENCIO.com