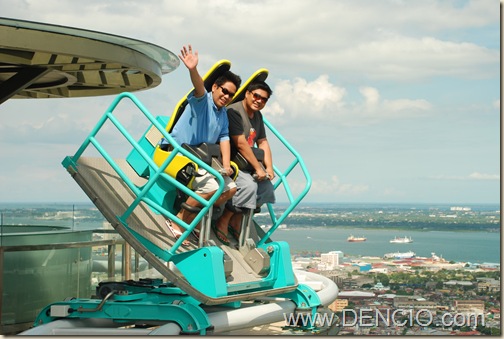 Let us pause from Eating shall we?… A 4 minute Pause that is! :p
Last week, I got the chance to experience the THRILL and the EXCITEMENT of this Ride!
Claimed as the First Edge Coaster in the World, it is Located at the 38th floor of the Crown Regency Towers in Cebu, which is the highest building outside of Metro Manila. I am sure you have seen or heard of it somewhere…
The ride was AWESOME! If I have the chance, I will do it Again and Again and Again!
Now here are some things you need to know, do, and don'ts on this ride
Bringing of your own camera is not allowed (a locker will be provided for you)

Please wear tight fitting shades… If you tilt the ride to the max 55 degrees, there is a chance that your shades will fall off since you are almost parallel to the ground.

It is good to ride on off peak hours (around noon time) since there is no queue. You may think that it is Hot outside, but when you are on the ride, you won't notice the heat of the SUN! Promise! And it is also a great time to view the city from above.

Enjoy the ride at its fullest! Although the ride automatically tilts on the edges, you can still tilt the ride some more… max of 55 degrees!

Now, TAKE NOTE OF THIS: Since you can't bring your own camera, they have their official photographer. If you want a copy of your pictures (who would not want?!) you will have to pay Php230 for each Print! Yes Php230 EACH! Surprise! Surprise!

You Also have the option to have the soft-copy of your pictures burned on a CD. It will cost you Php350 per Pair. That includes all your pictures.

The Certificate is FREE! 🙂

It may seem that the ride is uncomfortable… but actually it is not! NO PAIN! :p

The ride lasts only 3-4 Minutes… MAKE THE MOST OUT OF IT! :p

They accept Credit Cards as payment for the pictures!

And finally, if you are SICK, Afraid of Heights, etc… Please avoid this! :p

And super finally… if possible… DO NOT EAT before riding… 🙂
For the rates… you may go
HERE
Also located on the same floor as the Edge Coaster is the observation deck… You need 10 peso coins to activate the binoculars.
Again! I love This Ride! Sana Magkaron Sa Manila! :p
Next Stop… Skywalk!
Hanggang Sa Muli! Paalam! 🙂
_________________________________
By: DENCIO
Originally Posted On: www.DENCIO.com
Email Me | Post a Comment | Subscribe to My BLOG (RSS) | Follow me on Twitter