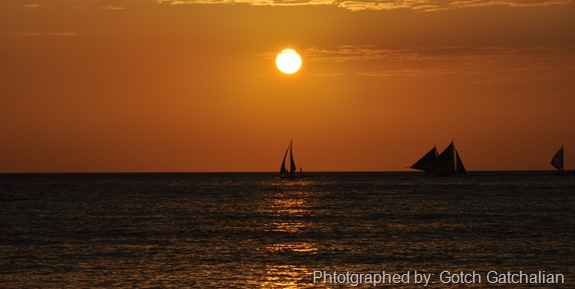 Le Soleil De Boracay
Boat Station 2, Boracay Island
Malay, Aklan, Philippines 5608
Tel. Nos. (036) 288-6209 to 12
The sun is setting in Boracay, and that only Means one thing for me… Dinner Time!!
Like I said on my previous post, eating Buffet in Boracay is a better better option than eating À la carte. There were a lot of buffets to choose from. There were Mongolian Buffets, Seafood Buffets, the High-End Buffets at Fridays and Discovery Shores, the Low-end buffets at some Boracay Grills and of course the, I consider, Mid Priced Buffet by Le Soleil.
The buffets are usually priced at P250.00 up to P1,200. This increases a bit during Saturdays and Sundays where the lowest starts at P280.00. Some buffet prices are net price some VAT exclusive, you have to ask them especially if you see the "+" sign at the end of the price. Most buffets do not offer drinks, some offer a single serve of Iced Tea, some, like Le Soleil offer bottomless Iced Tea. lucky for us, bad for them! :p
So after walking along the shore of Boracay, We ended up choosing the dinner buffet at Le Soleil. The Buffet Price is P396 NETT, inclusive of Bottomless Iced Tea. Buffet starts at 6:30PM-10:00PM.
Their buffet looks fancier than the other buffets around them, probably this is why some people are intimidated to try their buffet. They have a nice setting by the beach, the food are arranged well, there is a BBQ grill, and desserts (which some do not offer). We were the first ones on the buffet. Chow Time! (I was not able to take pictures of the buffet since we were using a wide lens camera, and the lighting was bad :p) But anyway, here are what's on the menu that night.
Clams

Oysters
Baked Tahong
Grilled Liempo
Chicken Inasal
Grilled Porkchop
Grilled Lapu-Lapu
Tinolang Manok
Mixed Vegetables
Rice
Salad Greens with choice of toppings and dressing
Pasta Bar!!!
Fruit Salad
And the one that was so irresistible to me… Mango Graham Cake!
Etc…
Not Bad for P396 and they all tasted good and the ambiance was wonderful. The waiters were attentive and very friendly as well. I really recommend this Buffet to everyone who will visit boracay! I myself will be definitely be back here at their Buffet!
Dencio's Tip: If you will be eating on a buffet, be there at around 6:30-7PM so that you get the best seats and be the first ones on the buffet table. This is especially important if you are eating on a low-end buffet. The buffet gets crowded easily and the food gets messed up by the other peeps. This can spoil your appetite seeing the food somehow, "mutilated" :p
The Next day, our buffet was horrible, why? because we were late,Le Soleil was full, and the food was already messed up, and the taste… Arrgh! Not Worth P295 + Drinks! Where?! Bugs Grill… We were probably better off eating Choriburger by the beach! :p
The night is still young… Time for some Booze by the Beach! 🙂
Hanggang Sa Muli! Paalam! 🙂
_________________________________
By: DENCIO

Originally Posted On: www.DENCIO.com
Email Me | Post a Comment | Subscribe to My BLOG (RSS) | Follow me on Twitter