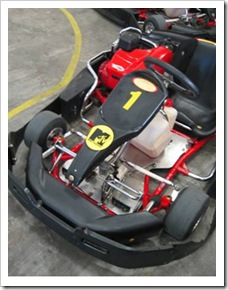 City Kart Racing Makati
7th Level, Parksquare 1, (facing Dusit Thani Hotel) Ayala Center Makati.
Tel: 856-9155 | Mobile: 0917-6169987, 0939-7666994
Email: christine@citykartracing.com or sharon@citykartracing.com
website: www.citykartracing.com

Vroom! Vroom! Good news to all Kart Racing (Go Kart) Enthusiasts out there! City Kart Racing has a new branch in Makati. Now, you can fulfill your need for speed anytime!
Even during lunch hours! :p
You just have to go to Parksquare One and Off you go to a Thrilling and Adrenaline Pumping Experience! (OA!) :p
I have tried Kart Racing Several Times before in Enchanted Kingdom and I really enjoyed It.  I haven't tried City Kart yet. But now, since it is just within Makati, It is more convenient.  Maybe I will drop by the tracks sometime before going home. 🙂

City Kart Makati Rates and Inclusions:
Php450 (adults) for 10-minute session including the rent of the suit and helmet.
They require a one-time racing license fee of Php150 for first timers to ensure that you will attend the safety briefing before your session. 
So there you have it! See you at the tracks! Have a Safe Race! 🙂
(Photos courtesy of www.citykartracing.com)
Hanggang Sa Muli! Paalam! 🙂
_________________________________
By: DENCIO

Originally Posted On: www.DENCIO.com
Email Me | Post a Comment | Subscribe to My BLOG (RSS) | Follow me on Twitter