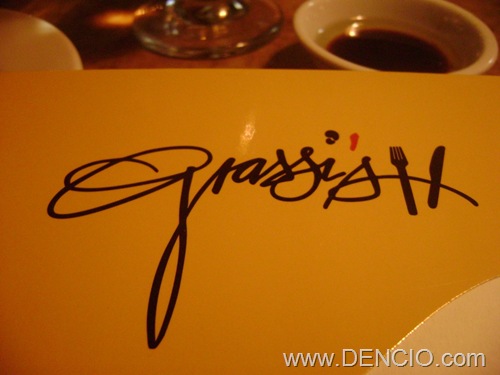 First of All, I am a bit hesitant in posting this. Because, I am not actually sure if Posting this is still appropriate..
Why you ask?
Well, I was in Alabang Town Center Last weekend and Unfortunately, I found out that Grassi's was already closed. I am not quite sure if they closed for good or just a total make-over or a renovation. Although, there was no sign that they are under renovation.. So I assumed that they a really closing for good (In Alabang) I am not sure if there are any other branch still in operation..
My apologies if this blog came in Late.. I was able to dine in Grassi's a while back.. back when it was still open on the Second Floor of the Alabang town Center (near PC Express and Healthway). The food was really good and the dining experience was really pleasant. That is why I really feel that it is still worth sharing… Who knows, maybe they will open again somewhere…
When I first passed by Grassi's, my first impression was – Fancy French Resto.
At first I thought that the food will be ridiculously costly but after studying the menu, which was short but sweet, I realized that the prices were reasonable. Php 500-700 for a fancy delicious meal, not bad right? I was expecting at least P1K.
Anyway, the place was simple yet elegant. Dim lights, cozy interior, and a small bar. Upon entry on their frosted glass door, you will be greeted by their friendly and accommodating staff.
Like I said, the food was exquisite. The serving was big and the serving time was not that long. Before you start your meal, you are served with a complimentary bread together with an olive oil and balsamic dip.. The combination was really good. In fact, I asked for a refill 🙂 The bread was firm on the outside and soft and chewy on the inside…
Appetizer… (Although I don't need one! :p) And Yes, Mango Shake is an Appetizer for Me!
Above: Fried Risotto Mozzarella Balls with Wasabi Aioli Sauce P220 (+10% sc)
Below: Mango Shake P120 (+10% sc)
The Main Course..
I stand corrected. The cuisine, was not French… It was very continental. There were rice meals and Pastas and others… Which was all really good! and Filling!
Sautéed Stripes of Chicken Breast on Pommery Mustard Honey Sauce P320 (+10% sc)
Pan Fried Beef Tenderloin Strips Stroganoff P370 (+10% sc)
Save the Best for Last!
US. Kurobota Pork Tenderloin with Chimichurri Sauce P495 (+10% sc)
The Meat was very tender with a delicate flavor. What I like most about this dish was not the meat but the pickled cabbage (Cabbage ata yun) that was served on the side! It was super delicious!
Desserts… Which by the way was just So-So.. Nothing special here but the presentation. But among the three, I like the Frozen Banana Mousse the most 🙂
Chocolate Cake in Caramel Mirror P180 (+10% sc)
Frozen Banana Mousse with Choco Split P180 (+10% sc)
Chocolate-Cognac Crème Brulee P180 (+10% sc)
Grassi's Menu
Grassi's is a great place for a fancy evening without having to rob a bank or leave the mall or the need to suit-up! I hope they open or re-open a nearby branch soon 🙂
Hanggang Sa Muli! Paalam! 🙂
_________________________________
By: DENCIO

Originally Posted On: www.DENCIO.com
Email Me | Post a Comment | Subscribe to My BLOG (RSS) | Follow me on Twitter