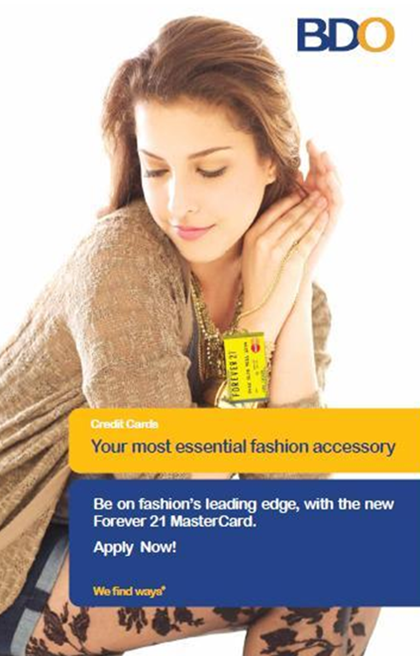 BREAKING NEWS!!
Good news to all Shopaholics and Forever 21 Fanatics. Now You can earn points, get discounts, and be invited to exclusive Forever 21 events and sales when you apply for a BDO-Forever 21 MasterCard.
No need to wait for your favorite item to go on sale! This co-branded credit card can give you exclusive privileges and discount all year round!
Here are the exciting card features and benefits of the new BDO-Forever 21 MasterCard.
Rewards Program
Keep using your Forever 21 MasterCard and earn Rewards Points from all your spending. You earn 3 times more Rewards Points when you shop at Forever 21 in the Philippines.
Computation:
P200 = 1 Point = 1 Peso Point (For all domestic or international retail purchases.)
P200 = 3 Points = 3 Peso Points (For Forever 21 Philippines purchases.)
Priority Access to Sale Events
Get the latest updates on Forever 21 sale events and enjoy special offers.
Exclusive Members Only Sale
Get invitations to exclusive Forever 21 sale special events.
Birthday Discounts
As a special birthday treat, enjoy special discounts on selected items.
Free Membership Fee for the first year for you and your supplementary cardholders!
Worldwide Acceptance
With BDO's worldwide network of affiliated banks and institutions, you can use your Forever 21 MasterCard in over 20 million locations and in over 275 countries and territories wherever MasterCard is honored.
Supplementary Cards
Each Forever 21 principal cardholder can avail of up to five (5) supplementary cards with the option of assigning a sub-limit for each.
The annual fee for Principal Cardholders is Php 2,400 and Supplementary Cardholders is Php 1,200.
And of course, Other Standard BDO Credit Card Features.
Light and Easy Installment Programs
EasyTRANSFER
Offering one of the lowest interest rates! Nowhere else can you get more savings when you transfer your other credit card balances to your Forever 21 MasterCard.
EasyOPTIONS
Purchase any item on installment from our affiliated merchants and choose from 3, 6, 12, 18, and 24 easy monthly installment options!
EasyCASH
Pay for all of your shopping, school or reimburse your cash purchases worth at least Php 5,000 at affordable installment plans.
EasyCONVERT
No installment scheme offered at your favorite store? Good news! You can convert absolutely anything into installment using your Forever 21 MasterCard! Simply call 631-8000 and convert any of your regular purchases worth at least Php 5,000.00.
Largest Network of Payment Centers
Settle your bills conveniently with BDO's largest network of payment centers, through over 700 BDO branches nationwide (with select branches open until 7:00 p.m. and on weekends), accredited ATMs, BDO Phonebanking or BDO eBanking, Automatic Debit Arrangement Facility or any of the SM Bills Payment counters nationwide.
BDO Branch Counters – cash or check payments are accepted at any branch
BDO eBanking* – transact anytime, anywhere in the world, through www.bdo.com.ph
BDO Phone Banking – access your BDO account to pay for your Credit Card using any touch-tone phone. Just call 631-8000.(Enrolment of your BDO account is required to avail of this payment facility.)
BDO Call Center* – debit your BDO account and pay for your Card through the assistance of our Customer Service Officers. Just call 631-8000.
SM Bills Payment Counters – pay for your Card through SM Bills Payment.
To Apply, Just visit your nearest BDO branch or the two Forever 21 Branches in the Philippines.
List of Forever 21 Branches in the Philippines:
For more info, you can add their Facebook Page or by Visiting Their Website or by Applying HERE.
Happy Shopping!
[AD] Want to earn while using Twitter and Facebook! Just Join and Register HERE!
_________________________________
By: DENCIO

Originally Posted On: www.DENCIO.com
Do You Like This Post?
Subscribe to the RSS Feed
Follow me on Twitter
Like us on Facebook
Email Me