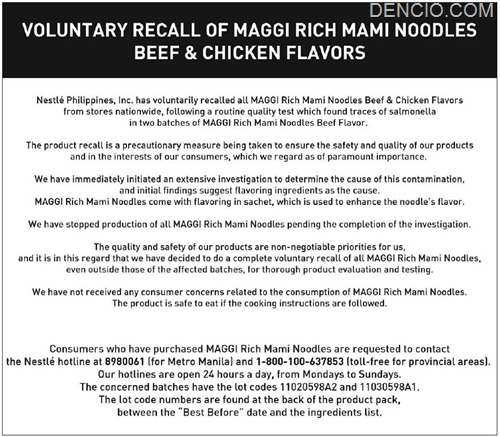 I saw this announcement in the Manila Bulletin this morning. I think it is worth sharing.
Nestle Philippines, the maker of Maggi Rich Mami Noodles are voluntary recalling all Maggi Rich Mami Noodle Products with batch/lot codes 11020598A2 and 11030598A1. The Lot Code can be found at the back of the package.
The reason? Potential Traces of Salmonella in the flavoring.
Here's the official announcement from Nestle. Click on the picture to enlarge.
Hanggang Sa Muli! Paalam!
_________________________________
By: DENCIO

Originally Posted On: www.DENCIO.com
Do You Like This Post?
Subscribe to the RSS Feed
Follow me on Twitter
Like us on Facebook
Email Me