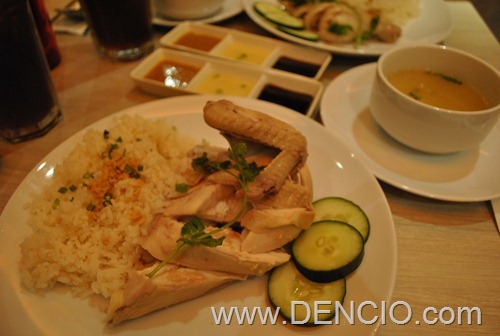 Good news to all Hainanese Chicken lovers out there! Now you don't have to go Far just to satisfy your craving for this famous Singaporean Dish. Now, you can enjoy your favorite Hainanese Chicken on All Kenny Rogers Branches. Not only it is convenient, but delicious and healthy too!
For only P185, you get the Complete Kenny's Hainanese Chicken Set: Rice, Chicken, Soup, and 3-Sauces (chili-ginger-sweet soy sauce).
The Taste? It was actually very good! And for the Price? It's a great deal! This is probably the most affordable Hainanese Chicken Rice you can find without sacrificing the taste and quality. And don't forget, this is just one of the many choices you have in Kenny's.
Perfect for the Rainy Season I must say…
Hanggang Sa Muli! Paalam!
_________________________________
By: DENCIO

Originally Posted On: www.DENCIO.com
Do You Like This Post?
Subscribe to the RSS Feed
Follow me on Twitter
Like us on Facebook
Email Me