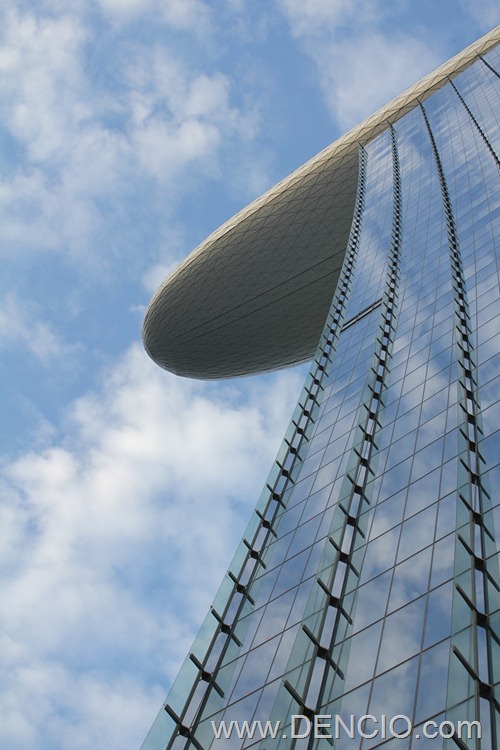 The Iconic Highlight of the Whole Integrated Resort Complex, The Marina Bay Sands Sky Park and Infinity Pool!
Facts: The Marina Bay Sands Has a total of 3 Towers, 55-stories, 2,561 Rooms and Suites with 18 different room types. Crowning these three towers is the world's longest elevated swimming pool. The MBS SkyPark is Longer than the Eiffel Tower and is Large Enough to Park Four and a Half A380 Jumbo Jets!
If you are a Hotel Guest of the Marina Bay Sands, you have free access to the SkyPark and Infinity Pool. You just have to show your hotel key-card to gain access. However, if you are a walk-in visitor, you have to pay and entrance fee of SGD 20. This will give you access to the SkyPark but not the Pool. The Infinity Pool is Exclusive to Guests only. The entrance to the SkyPark is located at Tower 3 of the Marina Bay Sands which is currently the nearest entrance from the Promenade MRT Station.
The SkyPark Offers Magnificent View of Singapore. You are literally looking down on the famous Singapore Skyscrapers.
The Infinity Pool was amazing! Amazing View and Amazing Height! But I have a couple of minor issues with the pool. First, it was too shallow! It was only 5-Feet Deep! Second, it closes at around 10-11PM? Why can't we enjoy our night swimming longer? I hope they extend the operating hours of the pool. Otherwise, it was perfect!
Other activities aside from Swimming and Sightseeing, are dining in one of the several restaurants in the SkyPark. You may also have your picture taken in their photo booth. And if you are there in the evening, you may enjoy in one of the Bars.
This is where the Public Area Ends.. The Poolside in Tower 3 is covered with curtain for the privacy of the guests. You have to present your Key Card Beyond This Area.
Dining with a View In The SkyPark
One of the Bars.. Ku De Ta..
Tower 3, SkyPark Entrance
Going down the Cantilever Observation Deck
You are way higher than the Worlds Biggest Observation Wheel – the Singapore Flyer
Some Photos Courtesy of Marina Bay Sands
Hanggang Sa Muli! Paalam!
_________________________________
By: DENCIO

Originally Posted On: www.DENCIO.com
Do You Like This Post?
Subscribe to the RSS Feed
Follow me on Twitter
Like us on Facebook
Email Me