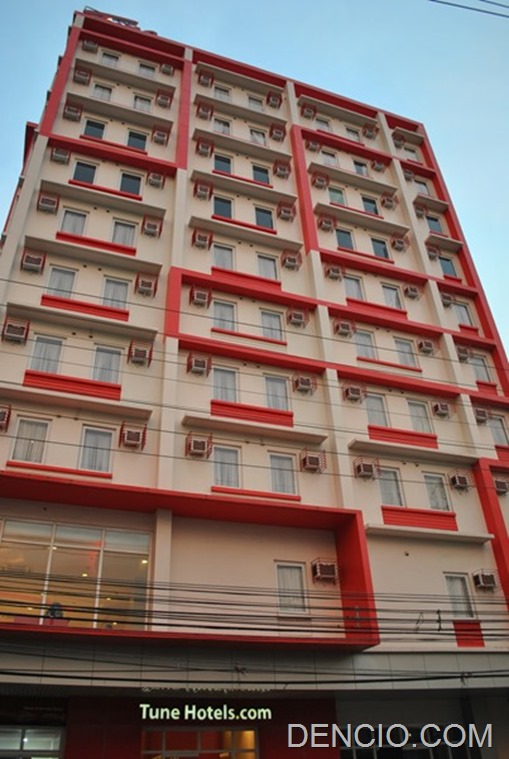 Tune Hotels Angeles
Don Juico Avenue (Clarkfield Perimeter Road) Angeles City Pampanga
Website: http://www.tunehotels.com/my/en/our-hotels/angeles-city/
Contact Number: +63 45 4590888
Whether you are in Clark Field in Angeles City for the weekend, transiting through the Clark Airport, doing business, or attending the annual hot air balloon festival, Tune Hotels Angeles is always available to provide you with a comfortable, affordable, and convenient accommodation right at the gateway of Clark Field, Angeles City Pampanga.
Location: Getting There.
Tune Hotels Clark is Located along the Perimeter Road in Clark, meaning it is situated right outside the fence of Clark Field alongside the other hotels and resorts in the area.
By Car: Going there using a Car is not a problem. Just take NLEX and use the DAU/Angeles Exit. Tune Hotels Angeles is just around 3KM away from DAU bus terminal (around 5 minute drive).
By Bus/Public Transportation: Going to Tune Hotels Angeles from Manila via Public Transportation is not that complicated but there are some parts where you have to go on foot for a few minutes. If you are coming from Metro Manila, you may ride the bus going to Pangasinan/DAU/Mabalacat  from their Pasay or Cubao Terminals. The fare for the air-conditioned buses from Pasay (with WiFi) costs P150 one way and if you are riding from Cubao, it will be slightly cheaper at P139. Travel time upon reaching NLEX Entry is just 1 hour.
From DAU/Mabalacat bus terminal you may need to walk (around 200 meters) towards the Intersection of MacArthur Highway.
Upon reaching Caltex Gas Station you need to cross to the other side and ride a jeepney going to SM Clark. It is a short ride to SM Clark and upon getting there, you need to walk again going out to the Perimeter Road since SM Clark is located inside Clark Field.
Upon Reaching SM Clark, you need to walk towards Eurotel Hotel (Around 200 meters) because the jeepneys that will take you to Tune Hotels Angeles have a terminal there. They call it friendship route.
Ride the jeepney and after a few minutes, you will pass by Tune Hotels Angeles.
Public Transportation (Aside from the jeepneys) are expensive in Angeles City. tricycles will ask for P100-P150 per ride and taxis wont use their meter, haggling is a typical occurrence.
What to Do in Angeles/Clark:
If you visited for leisure, there are a lot of stuff that you can easily go to or do if you have your own car as going around the city is a bit tedious and expensive using public transportation. Walking around is safe but there are no covered sidewalks. Some stuff you can do yourself around Tune Hotels Angeles:
Visit SM Clark
Go to Marquee Mall
Duty Free Shopping inside Clark Field (Best Done if you have a car)
Bar Hopping (Tune Hotels Angeles is walking distance from the Red Light District)
Deli-Restaurant Food Trip (Since there are a lot of Foreigners in the area, delis are everywhere)
Hot Air Balloon Events (Annual)
Pinatubo Tours
If you don't want a DIY trip, you can always pay for a Guided Angeles City Day Tour:
The Hotel:
Similar to the other Tune Hotels that I have reviewed previously, Tune Hotels Angeles offers the most basic yet functional hotel amenities at very affordable prices. Depending on the dates, prices usually starts at P788+ per night!
Check in was hassle free and the staff are very accommodating and pleasant. The lobby of the hotel is at the second floor of the building so there is already a 1 layer of protection on the ground floor since you cannot use the elevator if you don't have a key card since you need to tap it.
The Hotel room was typical Tune, small and clean. It has amazing an amazing rainfall shower, big TV with Digital Cable, Ceiling Fan, a window with a View, and fast wifi access!
The bed was great and comfortable however, the Pillows were too soft for me. I had to fold it in 2 to properly support my head. It totally slipped my mind that I could actually request for an extra pillow for just 60 pesos. The towels were not that fluffy but still functional and smells good.
One Minor Incident happened… I had to transfer rooms in the middle of the night (around 11PM) since the air-conditioner in my original room became noisy when I was about to sleep. Since there were no individual phones inside the room, I had to use the phone in the floor elevator lobby to call for a room change. The answer was quick and luckily they have a spare room that night, after a couple of minutes, a technician came to my room, checked the AC and gave me the new room key to my new room within the same floor.
Wifi Speed: Not Bad Right?! 🙂
View of Clark Field from my Room:
The Stuff that I love during my Stay at this Tune Hotel:
The shower area was bigger. As compared to the one in KL.
Like all Tune Hotels, the water pressure was amazing as well as the rainfall shower
The TV  had great selection of channels (They use Cignal Digital Cable) on each of their TV
Wifi was super fast and always connected!
I love the ceiling fan… I usually sleep on an AC+Fan Combo.
And as a Bonus if you are planning to Fly Air Asia via Clark, Tune Hotels Angeles has an Air Asia office at the ground floor. You can actually book and manage your existing bookings there.
Overall, Tune Hotel always offer great accommodation at super affordable prices (I cannot stress that enough). The Hotel is Centrally located, accessible, and got all that you need for a comfortable stay. I actually tried to book this hotel during my previous hot air balloon festival visit but they were fully booked (as expected). It is the perfect hotel to stay in if you have a super early flight at Clark Airport or Like I said, Attending the Hot Air Balloon Festival.
By the way, they also have in room massage, just call the front desk to inquire! 🙂
Hanggang sa muli, Paalam!
_________________________________
By: DENCIO
Originally Posted On: DENCIO.COM
Do You Like This Post?
Subscribe to the RSS Feed
Follow me on Twitter
Like us on Facebook
Email Me
Read More Posts HERE