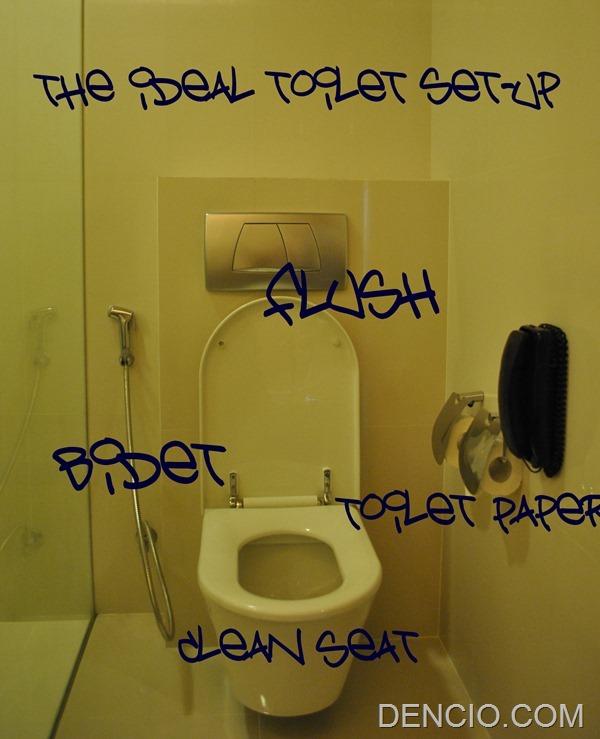 You walk in a toilet cubicle, ready to go… then you realized, there's no bidet! What to do?
Here's an ideal public toilet set-up for most people. A clean seat, flush (of course), a water bidet and a couple of rolls of toilet paper (because sometimes, you just cant have enough). This is the ideal – but most of the time, especially here in the Philippines… it will look something like this.
A Typical Public Toilet Set-up around the Philippines is just a Toilet + Flush… Bidet is a luxury and most of the time, you need to bring your own toilet papers (unless it is a hotel or someone's home).
If you're a guy doing number 1 (pee) then this set-up is pretty much perfect
If you're a girl doing number 1 then you may need to at least bring some toilet paper
If you're are planning to do number 2 (poo), then there may be some problem here.
For most people, a toilet+flush+toilet paper combination is pretty much adequate, but for Filipino's they might need something more… a bidet! We don't just wipe, we wash!
So what happens when there's no bidet in the toilet? Oh no! What to do?
Photo grabbed from Google Images. Credits to the owner.
Of course, locally you can always request for a "tabo" or a hand held bidet but if all else fails (or if you are abroad), we need to be a bit more resourceful otherwise we won't be comfortable during the rest of the day. The question now is, How resourceful can you get? Hahahaha!
I have heard stories from friends people use the hand held shower, a pitcher (not sure where they got one) and the most ridiculous was the water glass!! Eeeww, but desperate times calls for desperate measures right? Personally, I am not very comfortable with public toilets ("namamahay") at the same time, I am a bit lucky that often times, there's a bidet in the hotel or the office where I am staying but when there's none… I just postpone it until I get home.
So how about you? How do you handle a no bidet, no "tabo" and even a no toilet paper moment?
Hanggang sa muli, Paalam!
_________________________________
By: DENCIO
Originally Posted On: DENCIO.COM
Do You Like This Post?
Subscribe to the RSS Feed
Follow me on Twitter
Like us on Facebook
Email Me
Read More Posts HERE
PS: This is also one reason why I am not fond of Mountaineering or Overnight Camping.