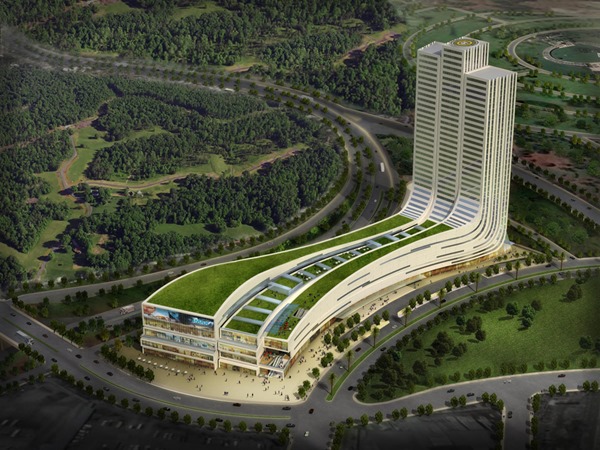 Me and a couple of friends visited SM Aura Premier on its first day of opening – it was Terrible. I know that it is only fair to cut them some slack since it was their first day in operation however, the stuff that they put out online and the actual experiences of the people don't really add up. Here's what I think about SM Aura Premier based on my one day (first day) trip inside this IMHO, over-hyped establishment.
Photo grabbed from Google Images. Credits to the Owner.
First, The Good Stuff! Of course, It was not all that bad!! 🙂
The External Building Design and Architecture
SM Aura Premier was designed by EDGE Interior Designers and Arquitectonica. I have to hand it to them, from the outside, this mega structure is really eye catching and very modern. The fluid architectural design which creates a smooth curve from the hotel tower down to the mall area is something new and is very pleasing to the eyes. With the its design and sheer size, SM Aura Premier is a new Landmark in Metro Manila. I hope they build more malls with iconic designs such as this one.
The Location
The location could not be better. SM Aura Premier is situated along C5, right beside Market Market, a stone throw away from Serendra, walking distance from Bonifacio High Street and is conveniently located in between BGC and McKinley Hill. It may not be as commuter friendly as the other SM Malls but hey, that's the point of being on the "Premier" level right?
Now the Not so Good Stuff: SM Aura Premier FAIL!
Where to eat?
During the opening day, let there be Famine! The only open stand-alone restaurants were Jollibee, KFC, Starbucks and Happy Lemon. There was a food court but we did not even bother joining the huge crowd. It was terribly packed with people! A lot of stores were already open but very limited number of dining establishments. They should have prepared for the hungry crowd. We had to leave and eat somewhere else that night. Wait, yes KFC and Jollibee… Don't get me wrong, I love KFC and Jollibee but aren't they trying to market this place as a Luxury destination? Go Figure!
The Crowd!
OMG! The mall was so packed – with the wrong people. I don't want to sound too judgmental since I have nothing against anybody so I will just put it this way: Majority of the crowd during the opening day was not the the Mall's Target Market. They were the exact opposite.
The Interior
If the exterior design of SM Aura Premier is exceptional, the interior is still your typical SM Mall. The shopping area is very Box-y looking with straight, end to end hallways. But there are some great additions to look forward to around the area which will make the whole experience more interesting like the Samsung Hall, the soon to be Hotel (rumored to be a Radisson Blu), SMX Aura, and the Sky Park. But compared to Greenbelt, Alabang Town Center, Serendra, and Bonifacio High Street, SM Aura Premier still Screams "I am still your typical SM Mall but with fancier Stores".
Banking on the Same-Old SM Branding
Here's my take on this. If SM is truly serious in creating a luxury brand under its company and catering to the high end market, then they should have just created a totally new brand for it. The SM Brand is well known brand which caters to all market segments, across all social classes. If they want to penetrate the niche market of the upper class people, they should have started from the ground up. (i.e. Glorietta – Greenbelt, Avida – Alveo)
If they have dropped the "SM" name and/or created a new Department Store Brand Name which can directly compete with the likes of Rustan's, Debenhams and Marks and Spencer, it would have made more sense. But they did not do that. Instead, they capitalized on the SM brand thinking that it would still appeal to their target market just by adding the word "Premier" to it. Luxury was compromised in SM Aura. They want all these luxury brands in the store but they still retained the typical SM Mainstays which compromised their target market. Why not make it something like Greenbelt 5 where most of the stores are not your typical household brands? Is that so hard to do? Knowing the reach of SM, that is not Impossible at all.
What I am trying to say is, If they want Luxury, they should stick with it. Own it. Do not compromise. As long as there are stores that a common person like me can afford inside SM Aura Premier, I would still go to this mall. Hence the crowd. Risking to turn-off their real target market. In my mind: "The place is not intimidating enough for me, it is just another SM Mall."
Cutting Some Slack
I know it is too early to pass on a lot of judgment but these are just my initial observations and opinions about SM Aura Premier. Some may agree some may not. I don't know the actual strategy of SM for SM Aura Premier but by the looks of it, they are really pushing for the High-End Market. They would probably still be improving a lot in the coming months and years, But one thing is for sure as long as they are Branded as "SM" it will be a long uphill climb before they can be equated with Luxury.
So to answer my question, Great Concept, Poor Execution? Yes, for now. But Let's wait and see!
So there.. My Initial Thoughts on SM's new Baby. How about you? Have you been to SM Aura Premier? Let me know your thoughts!! 🙂
Hanggang sa muli, Paalam!
_________________________________
By: DENCIO
Originally Posted On: DENCIO.COM
Do You Like This Post?
Subscribe to the RSS Feed
Follow me on Twitter
Like us on Facebook
Email Me
Read More Posts HERE