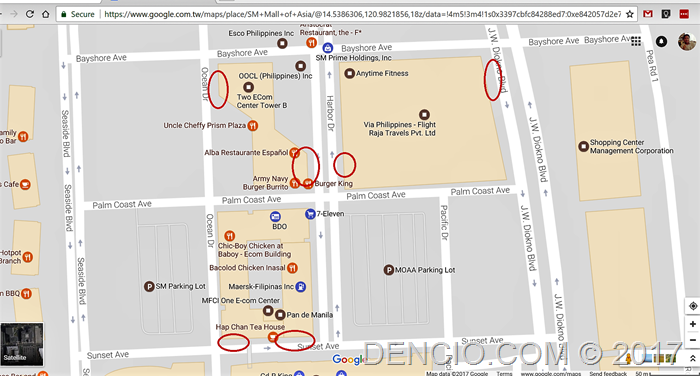 I have been partially Biking to Work (2-3 times a week) for a little over a year now and during those times, the convenience of biking to work, particularly inside the Mall of Asia (MOA) Complex and ECom Centers has greatly improved upon formal introduction of official bike parking slots around the complex.
This post will show you where exactly can you park your bikes in One-Ecom, Two-Ecom, and Five-Ecom buildings.
MOA Complex is one of the daily destinations for most bikers and cyclists. All types of them converge here particularly during early mornings and late afternoon. Bikers come to practice, train, or just hang out. Everyday you will see tons of Mountain Bikes, Road Bikes, Fixed Gears, Folding Bikes and even those Japan Mommy bikes as they call it. MOA has really embraced the biking community and during the past months, they have solidified their support for bikers by providing official bike parking around the complex. These are free parking slots for bikes that can be used by both visitors and tenants. I have not seen the ones inside the mall but they said they also have it both in MOA and in Conrad Hotel (S Maison).
As for me, I only see the ones around the ECOM buildings so here are the places where you can park your beloved bikes.
One Ecom Bike Parking
For one ecom, there are two parking slots, one in front of Fitness First and another a few steps away beside McDonalds one ecom. Both are equipped with fixed metal racks where you can lock your bikes. The one in front of Fitness First is semi-covered and the one beside McDonalds is covered under the staircase.
Two Ecom Bike Parking
Two Ecom bike parkings are probably the safest among all the parking slots since it is located inside the delivery drop off area near the service elevator beside the security guard station. It is both covered and guarded. There are two parking slots in Two Ecom as well, one beside pan de manila facing five ecom and the other one on the opposite side near the parking entrance on the 7-11 two ecom.
Five Ecom Bike Parking
This is the newest Ecom building and it has the most beautiful bike parking so far. No wonder it is very crowded. It is located below the staircase, covered, with doors and lights, but no guard. The parking is between Jollibee and the carpark entrance facing two-ecom. There is also a bike parking in the open parking area on the opposite side in front of Abby Bistro.
Before I continue, a big shout out to these people who totally ignored the rules. Hello Kuya or Ate, please don't ruin this for everyone else. Rules are rules, wag po tayo pasaway dahil baka lahat tayo mawalan.
So there you go. SM Provided us with this convenience, let us not abuse it or ruin it for everybody.
For easy reference, please refer to the map below for the Bike Parking Locations:
(click to enlarge)
If you bike to work or is thinking about it, you may join the Bike To Work Pilipinas page in Facebook for tips on routes and parking locations.
Remember, Ride Safe, Park Safe, bring your own locks, first come first serve.
PS: ECOM Buildings allow folding bikes inside the building as long as they are properly folded and/or inside a carrying case.
Hanggang sa muli, paalam!
DENCIO