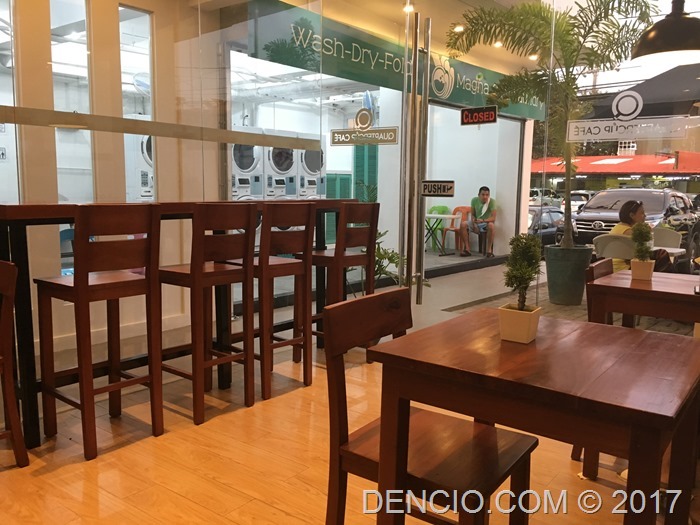 Before I begin, I have been living in Las Pinas city for almost 3 years now, particularly in BF Resort Las Pinas. I have been eating around the places within BF Resort Village and I have not blogged about any of them – yet. A lot of people know BF Homes Paranaque as a food haven in the south but recently, the BF of Las Pinas has been gaining ground when it comes to becoming a foodie haven in its own right. Well, I won't promise to cover them all but I plan on starting a #DenciosBFResortAdventure series. It will be a crawl alright – probably 1-2 places a week. I think BF Resort has a lot to offer and I am looking forward to sharing them with all of you. Now moving on.
Let me start with BF Resort's newest coffee place – Quartercup Café which is located at Onofre Commercial Building along Lalaine Bennett Street (near the Creative Middle School and All-Day Convenience Store intersection). The shop is located at the ground floor right beside the self-service laundry. It is small and cozy, probably can sit just around 20 people inside.
I have been here twice already, today and last week. I will have to be honest with you, I have not tried their coffee. I am usually there around dinner time and they don't have decaf so there, no chance for coffee. However, I was able to try a couple of their All-day breakfast and their dark chocolate drink.
Quartercup Cafe Tapa with Egg (Tapsilog) P110.00
Tender garlicky beef tapa served with egg, fried rice, and atchara. This was superb. The beef was tender and juicy and it was cooked just right. The tapa was on the salty side which if perfect with the rice and the sweet and sour atchara. Mind you, I do not eat atchara but this one was an exemption. I loved it. The serving was hearty too. Super sulit sa P110.
Quartercup Cafe Corned Beef (Corned Beef Silog) P110.00
I love Corned Beef, so between the Tapa and this one, I would say that this is my current favorite from their menu (will probably try the others soon). According to them, this is a home made corned beef. Whoever cooked this, I love you! I like Purefoods corned beef and if you like Purefoods too – this may be bordering almost there Purefoods corned beef level, if that makes sense. So for P110, go for this hearty serving of home made corned beef and fried rice!
As for the Iced Dark Chocolate, it was just ok. I think their coffee based drinks are better since I can smell their espresso aroma from my seat.
Like their place, Quartercup Cafe's menu is short and sweet – which is good. Let us not over complicate things right? Basically its just coffee (and a few other drinks) and All-Day Breakfast (and a few others). And the price point is very reasonable as well.
There are a lot of new coffee shops popping in and out these days so if you are able to find your ideal place to sip and chill, enjoy it! For me, I will definitely be back for more of the breakfast stuff and hopefully I can be there earlier to try their coffee. The overall tambay vibe was good. The place is still relatively quiet, very clean, the service was fast, people were friendly, and there are sockets for your chargers, however, there is no Wi-Fi yet but mobile reception is great. I use my phone as hotspot.
For more information about Quartercup Café you may visit their Facebook Page.
#DenciosBFResortAdventure
Hanggang sa muli, Paalam!
Dencio