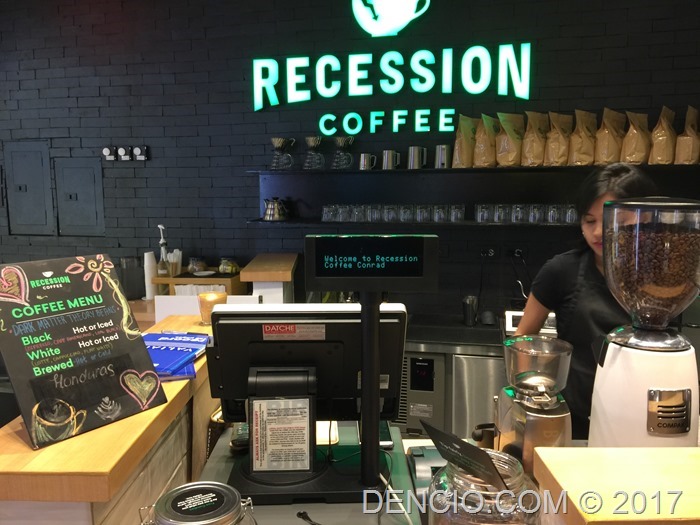 About a few months ago I came across a post on my Facebook Feed about this relatively new coffee shop (they opened around 2015) which according to the post, lets you decide on how much you pay for your coffee. The place is called recession coffee which is a coffee place where you can go whether you are in a good or bad financial situation in your life. To simplify, Pay more if you have more and pay less if you have less. I understand the concept however I am still not convinced on the idea. Are you?
Well here goes my Recession Coffee experience.
Recession coffee opened up a new branch in S Maison, a high end mall inside the Conrad Hotel Manila which is within walking distance from my office. The place is then located inside a Digital Walker branch.
Upon entry, you will be greeted by their friendly Barista and will be asked for your order. Their coffee menu is short and sweet. Although they also sell pastries on the side. There was not much to choose from so I ordered a Hot Flat White. They only had one size for the coffee – small – which is like Starbucks' short.
While the Barista was meticulously preparing the coffee, I noticed that:
They do not skimp on their coffee.
They use this big expensive looking espresso machine
Their coffee beans smells really good
They take their time preparing my drink
My coffee even came with a latte art on it
AND, they use my favorite milk – Pure and Best!
I get to walk around Digital Walker – Perfect Complementary Service!
Basically, everything was legit, professionally prepared, hand crafted coffee. And it tasted so good! I wish they have a bigger size!
Now here goes the unique Recession Coffee Experience – I was asked for my payment. If you are a bit unsure about your financial situation:
Really struggling financially (but found yourself in a high end mall)
Money is no issue
Somewhere in between
Fond of climbing the social ladder (this is probably me)
Then you can just follow their handy dandy price guide.
I asked the barista how much was the average price that people pay at their branch and she said P150 (fair enough, average coffee shop price) but there were also clients who pay P50 not because they can't pay more but they just want to see for themselves if this radical pricing system really works. Also, I passed by their store a few days ago, they actually display their average pricing somewhere in their store for you to get the feel on how much people were paying.
I paid P150. Which is, to be honest, a bit on the expensive side since a Venti Latte in Starbucks costs the same. But hey, its the experience right? And as a P150 paying customer, I get a nice coffee sleeve.
The whole experience was fun yet a bit uneasy. Initially I though that you won't have to go through a formal payment process, just drop your money somewhere and you are good to go. But no, she had to asked how much are you willing to pay – a tense moment there – of course my conscience would say pay the regular coffee rate but my wallet says otherwise. The guilt feeling was definitely there. You have to give your money to her, then she will then issue a receipt with your payment amount on it and give you back your change. The entire payment process was uneasy. I guess because it was my first time? I am not sure. Will I be coming back? I am not sure, probably? If you have money to spare, you will feel guilty if you pay less than the average, unless you are really loaded then that is a good reason to pay somewhere in the north but for those people who are having some financial problem, would you even prioritize going to a luxury mall just to have an artisan coffee for P50 or less? I don't know. There is a bit of novelty here which does not appeal to me. What about you?
PS: There are good coffee under P50 – on top of my list, Dunkin Donuts, 7-11, McDonalds, and for a bit more, Krispy Kreme.
Have you tried Recession Coffee? How much did you pay for your cup?
Hanggang sa muli, Paalam!
Dencio