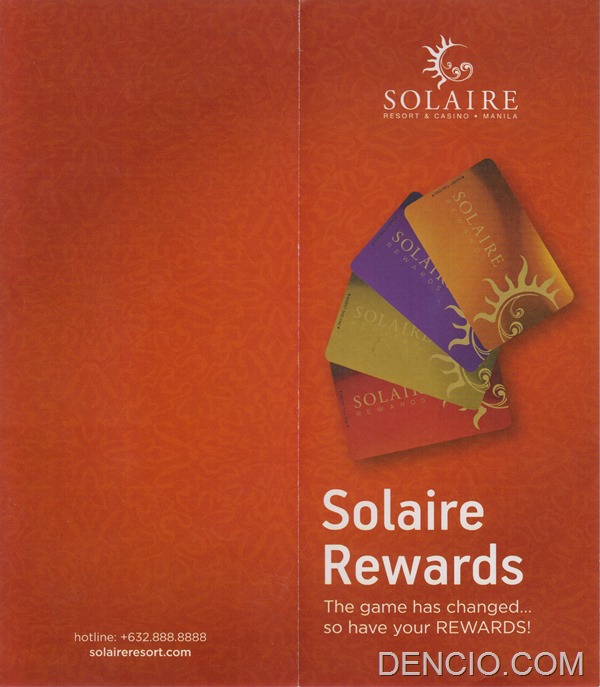 Did you know that Solaire Resort and Casino will upgrade your existing Resorts World Manila Membership Card if you become a member? Read On…
I went to Solaire last week and the first thing I did was sign up for their membership rewards. Like RWM, the process was fast and free. Although there is one difference, RWM will take a photo of you on the spot while Solaire will scan your Government ID Photo.
Becoming a Member of Solaire Resort and Casino is Fast Easy, and Free!
1. Fill out their Application Form
2. Show your Government Issued ID
3. Wait for a few minutes… and That's it!
As a member of Solaire Resort and Casino, you get the following benefits. Some of which depends on your Membership Level and availability of promos:
Earn and redeem Base Points and Solaire Dollars (i.e. Solaire$}
Tier exclusive Jumbo Jackpots
Personal access at mysolaire.com
Solaire$ Earning Bonus
Free Play offers
Complimentary dining
Exclusive SMS/e-Mail offers
Participation in on-floor promotions
Invitation to exclusive events and toumaments1
Complimentary show tickets I entertainment tickets in MOA
Arena
Complimentary hotel accommodations
Dedicated Casino Host
Access to Solaire Club Lounge and High Limit Slots
Priority service lines
Complimentary valet service
VIP hotel check in
Complimentary room upgrade
Late check out at the Hotel
Limousine pickup from the airport
And more!
Some of these Solaire membership benefits are subject to change. Please refer to the updated new members information sheet when you sign up.
Now for the part that you have been waiting for! Resorts World Manila Members who holds a SILVER, GOLD, and PLATINUM Cards will get a FREE upgrade when you sign up with Solaire Resort and Casino's Rewards Membership Program.
Silver RWM Card = Solaire's Preferred Card
Gold RWM Card = Solaire's Elite Card
Platinum RWM Card = Solaire's Elite Card
This is good news especially to the Gold Card Holders of RWM because it is a major upgrade on their end. RWM Green Card Holders… bad news, No Offers for us. My membership card above is the base membership at Solaire's similar to Resort World Manila's Green Card. Do I need to gamble more? No thanks! 🙂
So there you go! Become a member at Solaire Resorts and Casino and start earning points. To the lucky RWM Card Holders, go ahead, upgrade your status at Solaire Resort and Casino! Also, Good Luck on the Games! 🙂
Side Notes: Solaire is really an amazing place, Super luxurious and totally something new for Filipinos. However, I noticed that most parts that are open to the public are casino areas. The place is not that Family Friendly yet especially for the kids. They can inhale smoke from the casino area and the security around the casino is really tight. As for the dining options, they have several restaurants inside the building, expect to pay a minimum of 1,000+++up per person if you want to dine inside one of their themed restos. There is also a Buffet inside Solaire called Fresh and their buffet price starts at P1,000++ per head (I saw it from the outside, it's not that big). Alternatively, there is a food court inside but it was really small and also, be prepared to shell out at least 250+++up for a quick meal.
Hanggang sa muli, Paalam!
_________________________________
By: DENCIO
Originally Posted On: DENCIO.COM
Do You Like This Post?
Subscribe to the RSS Feed
Follow me on Twitter
Like us on Facebook
Email Me
Read More Posts HERE