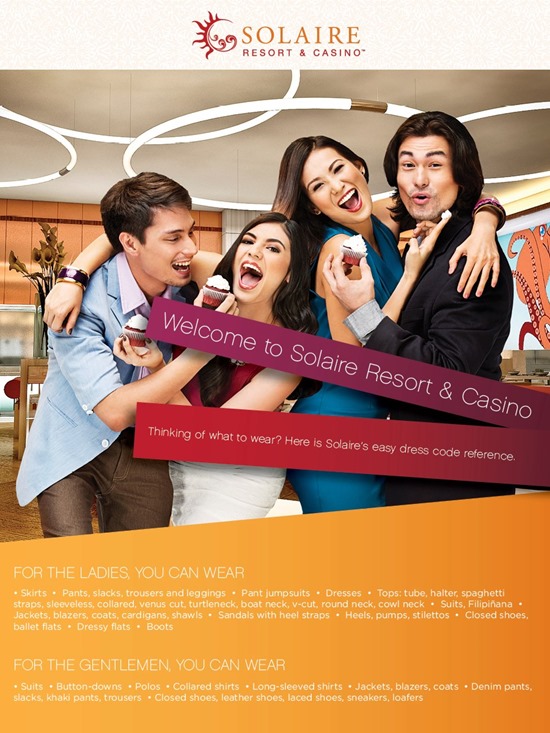 Planning on attending the most anticipated, ultra amazing, highly publicized and uber expensive Grand Opening of Solaire Resort and Casino Later? Then you better check this out first before heading out to the crowd. Apparently, there is a dress code in the resort. If you are used to roaming around Resorts World Manila and getting away with your ultra casual shorts and flip flops then you better think again… it turns out, may have to dress up a little for Solaire.
Plese take note of Solaire Resort and Casino's Dress Code:
GIRLS | LADIES | WOMEN: You may wear..
Skirts
Pants
Slacks
Trousers
Leggings
Pant Jumpsuits
Dresses
Tubes
Halter
Spaghetti Straps
Sleeveless
Collared
Venus Cut
Turtle Neck
Boat Neck
V-Cut
Round Neck
Cowl Neck
Suits
Filipiniana
Jackets
Blazers
Coats
Cardigans
Shawls
Sandals with heels and straps
Heels
Pumps
Stilettos
Closed Shoes
Ballet Flats
Dressy Flats Boots
BOYS | GENTLEMEN | MEN: You may wear..
Suits
Button Downs
Polos
Collared Shirts
Long Sleeve Shirts
Jackets
Blazers
Coats
Denim Pants
Slacks
Khaki Pants
Trousers
Leather Shoes
Laced Shoes
Sneakers
Loafers
Closed Shoes (I Guess Sanuk is covered here, but hey, they are not shoes, they are sandals, also Rubber Shoes I think are allowed… we'll see)
Well, there is always this rule that it is better to be overdressed than to be underdressed right?
I am not at all surprised about this. I think this is very appropriate and necessary to keep up with the level luxury that Solaire Resort and Casino has to offer. Everyone must dress to impress and be presentable! So to those guys who love wearing shorts and round neck tees on weekends… better bring or store an extra "Casino Clothes" in your car's trunk just in case you suddenly decided to drop by Solaire.
Truly, the game is about to change… starting with your get-up! 🙂
[UPDATE] I was there yesterday (24 March 2013) and I saw a lot of men wearing shorts, sanuk, and even crocs. I saw them walking around the restaurants but not inside the casino. I am not sure how this dress code works really.
Hanggang sa muli, Paalam!
_________________________________
By: DENCIO
Originally Posted On: DENCIO.COM
Do You Like This Post?
Subscribe to the RSS Feed
Follow me on Twitter
Like us on Facebook
Email Me
Read More Posts HERE