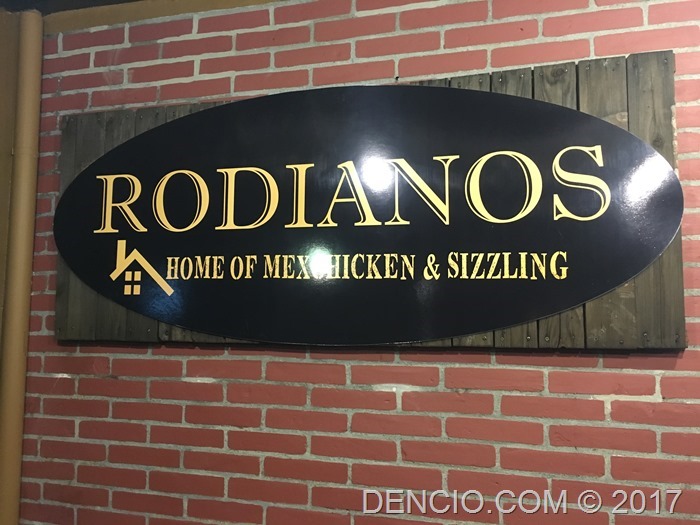 Next in my #DenciosBFResortAdventure series is this new Mexican – Sizzling plate restaurant along BF Resort Drive – Rodianos: Home of MexChicken and Sizzling.
It was a Thursday night, I planned on eating Thai Food from my favorite Thai place in BF Resort. On my way, my eye caught this shiny new, small restaurant in front of Westfield School along BF Resort Drive, well actually the official street is JB Tan but I do not understand why a straight road could have 3 different street names: BF Resort drive, then JB Tan, then Vatican Drive. Anyway, I decided to stop, try Rodianos and skip Thai food.
Rodianos is still in its soft opening, last Thursday was just their fifth or sixth day of operation. Upon entry, I was greeted by their friendly staff and was handed the menu. Upon first glance, I was a bit confused about the cuisine and the theme of the restaurant. The place was small, can only probably sit around 15-20 people comfortably. It was not the colorful Mexican theme I got used to, it was more of a wing shop or pizza parlor theme. Well, to be fair they have chicken wings on their menu. Together with some pasta dishes, sandwiches, sizzling plates and some other dishes, hence my confusion on the cuisine. Well, fusion is in so it is probably that.
I decided to order the house specialty, the MexChicken and some Chicken wings on the side. After a few minutes, my order arrived.
Rodianos Hot Wings with Ranch dip P158
The chicken was good. It was tangy and not so spicy. Like most restaurants, they count the wings as 2 per wing so technically you only get 3 whole wings for the 6-piece order. Halfway through my first wing, I noticed that the inside was still bloody – you don't want to eat bloody chicken. So I had to have it replaced. After a few minutes, the new batch arrived and it was ok. They apologized and explained that it was maybe because the chicken was still frozen when it was fried. And they offered me a free dessert.
Rodianos MexChicken P180
This is one of the specialty of the house. Aside from the nachos and quesadilla, this is the only Mexican inspired main course in the menu. The Mexican rice was served cold and the chicken was on the dry side, probably because I order the breast part. The chicken was very tender though, it was fall of the bone, and you can taste the "Mex" in the skin and some parts of it. Again since it was white meat, juiciness was not expected. I had to pour over the salsa (which was good) and some Maggi Savor goodness. Honestly, apart from it being served cold, I was expecting more from this dish. The corn was just corn, not buttered whatsoever, and the tortilla was just tortilla. The dish was dry both literally and figuratively. Maybe I will try again next time when they have opened fully.
Since the chicken was served bloody, I had a free Brazo de Mercedes cup P40.
I like the idea of a bite size dessert, just enough to end your meal. The brazo de mercedes was good. It was not too sweet, perfect portion size, and the custard was a bit chewy so you get to taste more of it in every bite.
Rodianos Menu is still – I assume – a work in progress, 4 days into their operation and you already see some revisions on it. So for now, here is Rodianos BF Resort menu:
My first try was a miss. I may need to go back to try their pasta and sizzling. But again, since MexChicken is part of their tagline and supposed to be one of their specialty, they should make sure that it stands out.
For Rodianos BF Resort contact number and for more information on Rodianos, you may visit their Facebook Page:
https://www.facebook.com/Rodianos-Mexchicken-and-Sizzling-1305963756167175/
To my favorite Erawan Thai Restaurant, I will do you next on my #DenciosBFResortAdventure.
Hanggang sa muli, paalam!
DENCIO