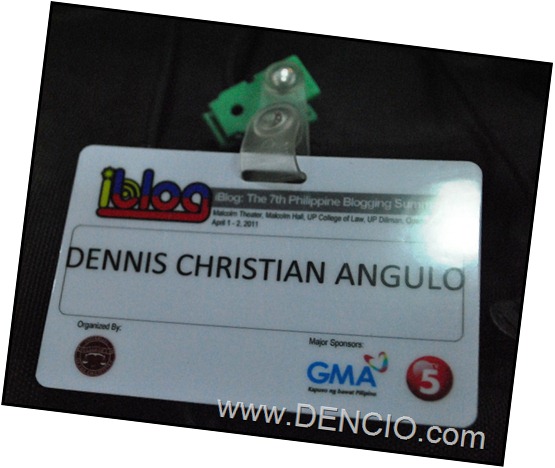 I have been a blogger member since 2006 but It was only until recently that I became serious about blogging. Back then, Finding readers was a major concern. Formatting and Lay-out were for experts only. And not to mention, Earning from my blog was an unchartered Idea.
Now, it's a different story.
There are multitude of blogging tips and tricks in the web nowadays. But learning it personally from someone real is a totally different experience. It is more personal, real, and convincing. The iBlog event was a lot of fun. Here are some of the highlights of my iBlog 7 experience at the Malcolm Theater of the UP College of Law last 01 April 2011 (I missed day 2). The event was a bit of an Information overload but here's my digested version.
FOOD, TRAVEL, and TECH/GADGET BLOGS ARE THE MOST EXPENSIVE BLOGS TO RUN!
You don't have to tell me twice on this one! I totally agree, Me and my Friends pay for the majority of the food, restaurants, resorts that I feature in my blog. Yes, I get Invited to events and restaurants but I still believe that the best way to feature a restaurant is by being a typical walk-in client like most of us and not as a guest where you get a bit of extra special treatment. 🙂
YOU CAN EARN FROM YOUR BLOG!
Whether Online or Offline, there are plenty of ways on how you can monetize your blog. Of course the basics, Google Adsense, Nuffnang, and other online advertising model. But aside from these, You can also earn from getting advertisers or sponsors. This I have yet to try. 🙂
BE PATIENT!
A successful blog is not created overnight -Unless you are a well-known celebrity. Some blogs take a few months, some takes years before it generates a substantial amount of traffic. You really have to be patient and of course, devote more time and money in creating quality contents that are relevant to your readers.
PROMOTE YOUR BLOG ONLINE/OFFLINE!
Let other people know that your blog exist. Facebook and Twitter are very good tools in pushing your content out. But you also have to make sure that you are searchable in Google and other search engines. You have to tell the people that you have a blog. Otherwise, you won't get visitors. Even if you have great content, if people don't know your blog exist, your blog is basically non-existent. Aside from Online Marketing, Offline Marketing is also very important, businesses MUST know that you exist. That way, you may be able to get advertisers and sponsors. I am working on this one, let's see what happen.
BEING A BLOGGER, COMES GREAT RESPONSIBILITY!
You have to be ethical when blogging. Integrity and credibility also applies here. yes, you are free to write anything about anything and anyone but it does not mean that you have to write everything. You also need to practice responsible writing and discernment.
THERE IS PLENTY OF ROOM FOR GROWTH AND IMPROVEMENT!
Marketing, Monetizing, Contests, SEO! Lots of things to do but I am very excited. I have a lot in mind. I just have to work on them. Looking forward to positive results. Wish Me luck!
And finally the Highlight of my day. The Issue on…
NATIONAL BLOGGERS ASSOCIATION and PROFESSIONAL BLOGGERS ASSOCIATION
I have been reading a lot about the formation these two organizations. A lot has been said online, both sides aired their opinions and concerns. But it was very refreshing to hear it directly from the source. I love Janette Toral 's Speech. It was very enlightening, informative and It really made sense. It was way better that reading about the issue online. She was able to send out the message without being pushy. Whether you are pro or against, it does not matter. Anyone has the right to create a group that they believe in. The bottom line is, it is up to you to join or not, to speak up or to shut up. As for me, I am ok with the Idea BUT I am not fully decided yet. I have yet to see how it will it help the community as a whole and me as a blogger.
Overall, the event was really fun, informative and productive. I met some of my fellow blogger like http://hubogmagazine.weebly.com. Also, I finally have a face for the different blogs that I read. Although I am still bitter for not winning anything from the raffle, I am trying to move on! Hahaha! I am looking forward to more events like this. Looking forward to iBlog 8 next year.
[AD] Want to earn while using Twitter and Facebook! Just Join and Register HERE!
_________________________________
By: DENCIO

Originally Posted On: www.DENCIO.com
Do You Like This Post?
Subscribe to the RSS Feed
Follow me on Twitter
Like us on Facebook
Email Me