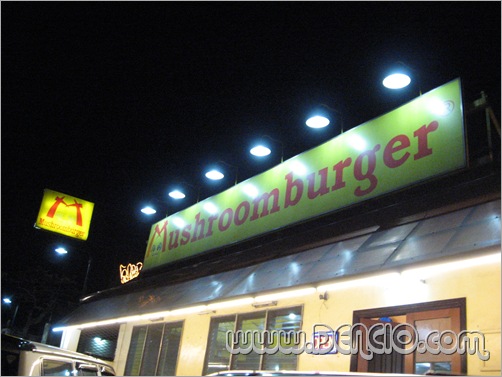 Next Day… January 2…
After Making Tambay all night long with my High school Friends… It's now time naman to meet the College Friends of Mine… It was a short notice… That is why only few of us was able to come. Or is it? Anyway… We decided to make tambay sa walang kamatayng Tagaytay! It was so chilly! Paow and I got there first… So we decided to grab some all-time favorite Tagaytay Food… The mushroom burger! Sarap Talaga! :p
And then… tried our luck.. or his luck… sa Casino… akalain mo… pwede pala naka-shorts! noon ko lang nalaman… May live band sa Casino kaso bawal cam eh…
After loosing 500 pesos in 3 minutes sa color game… we are off to the tambayan ng bayan.. sa may starbucks area! Pero meet muna namin si Ian sa Carlos Pizza… Sa tabi nung starbucks!
And then Pag-dating ni Gotch… Tuloy na ang Tambay sa starbucks! Tambay! Tambay! Tambay! Kwento… Kwento… Kwento… tapos sabi ni Ian… Susunod daw si Eric… Nanjan daw sya kasi normally nasa Ilocos sya.. Med-rep ng unilab… Anyway.. So tuloy ang pag tambay.. kwento.. At picture picture!
It was already 3AM… Uwian na daw… Pero daan muna daw sa may dasma… saglit! :p
Ayan Saglit lang daw… After 5 Red-Horse Grande, Sizzling Sisig, and French Fries it was already 5AM… Time To Go… Pero… Gusto daw muna nila kumain ng kanin bago umuwi… hay! so byahe ulit… E nagkataon sarado pa… So uwi na lang… (Buti naman! :p)
So uwi na nga… pero… Since medyo hyper ang mga tao… Medyo bumilis magpatakbo! Sobrang Bilis… Uminit ang Gulong at na-Flat! Ayan! Ayan!
It was already 6AM, totoo na! uwian na! Hehe! At last! Thank God! I survived! :p
Sa mga Di nakapunta/nagdrowing/busy/whatever! Happy New Year na Lang Din… 🙂
By: Dennis Christian Angulo
Originally Posted On: www.DENCIO.com