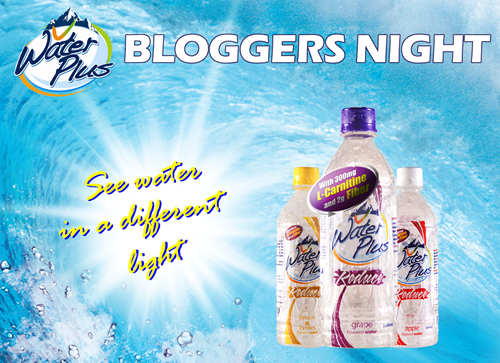 Recently, Water Plus, an enriched water product from Zesto Corporation (Makers of Zesto Juice Drinks and Zest Air), re-introduced itself to the blogging community at Lu Restaurant at the Rockwell (will do a separate review of the food later). Accompanied by my friend Karen, I was one of the few bloggers who were invited to the said event.
The event started by an Ice-Breaker Game for the Bloggers called Human Bingo..
It was a fun game, what you need to do is find a person who is described in each of the human bingo box, whoever completes his or her bingo card first wins!
I Lost – next! :p
After the game, Mr. Edwin Martinez, the Brand Manager Proceeded with the Introduction of their products and their new Ad Campaign.
About WaterPlus:
WaterPlus is a revolutionary ZERO calorie beverage made from purified water infused with health enhancers that comes in three different variants. It is clear with a refreshing mild fruit taste and offers consumers three different benefits per variant of this new drink, aside from quenching one's thirst.
Reduce – Water + L-Carnitine that helps burn fat and converting it to energy, and Fiber which helps clean the digestive tract from toxins to promote proper weight-loss management and healthy digestive system. It comes in three flavors: Grape, Apple and Lemon & Berries.
Smart – Water + Choline, Taurine and B-Vitamins which are essential in aiding your memory for better recall, sharpness and boosting brain functions. Available in Apple flavor.
Protect – Water + Vitamin B6 and Zinc which are known to aid in improving your immunity, helping your body protect itself from certain diseases. Enjoy its Lemon & Lime flavor.
At the event, We focused on the Reduce Variant, probably since it is the most sought after product nowadays (ex. Fit and Right, FAB). It came in three delicious flavors Apple, Grapes, Lemon & Berries. Of course Water Plus Reduce won't be a "reducing" drink without the active Ingredients – 300mg L-Carnitine and Fiber. Take note though that this drink is sugar free, but sugar substitutes are used, and not sodium free. If this is a concern for you then you may want to check on the label.
After the Presentation, they unveiled their new Billboard and Ad Campaign featuring DJ Andi Manzano.
IMHO I think DJ Andi (Who is also one of the host on the event) is Prettier in Person.
Well, there you have it.. Thank you very much to Ms. Bianca Esguerra of Redscope Events Management for Inviting us to the event..
After the presentation it is time for Dinner!!! Yey! 🙂 – Will Feature Lu Restaurant's Food Later.
After Dinner, there was the raffle… And then again, I lost! 😛 But it was a close fight!
Hanggang Sa Muli! Paalam! 🙂
_________________________________
By: DENCIO

Originally Posted On: www.DENCIO.com
Do You Like This Post?
Subscribe to the RSS Feed
Follow me on Twitter
Like me on Facebook
Email Me