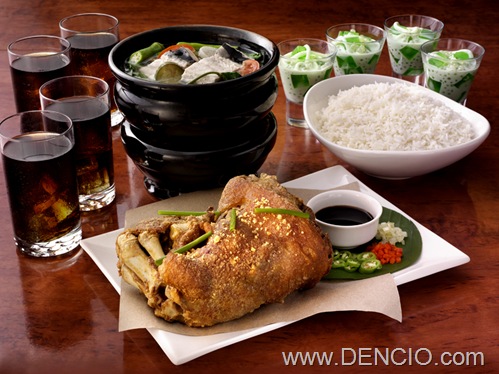 In a move to highlight their other products and offer good and affordable meals for you and your friends and family, Max's Restaurant jump starts 2011 with a Crispy Pata Feast.
I say, Enough with Pizza group meals Already! If you are Looking for a truly Filling and Satisfying Group or Family Meals? Go Try This one!
For just Php865.00, or roughly Php216.00 per person, you get the following:
One hefty plate of Max's fork-tender Crispy Pata
One Big Bowl of Max's Sinigang na Bangus
4 cups of steaming white rice
4 glasses of any ice-cold Pepsi softdrink
4 servings of melt-in-your-mouth Buko Pandan dessert
That's more than PhP300 savings for a fully satisfying meal, perfect for sharing with friends and nurturing relationships with loved ones.
Now let's try the food –
Max's Sinigang na Bangus – I love their Sinigang. It was perfect for me – it was not too sour. Also, the bangus was boneless. So of you're like me who loves bangus but hates the bones.. You'll love this!
Side note: Speaking of bangus, you should also try their crispy bangus belly!!
Now, to the main event, the Crispy Pata. It was OK but I was a little disappointed, particularly the one that was served to us. First, it was not that hot anymore (it was probably prepared ahead of time).. then.. We were expecting to have that one-fork-scraping of the meat, but surprisingly we found it hard to slice. Had we used a steak bread knife. We could have easily hoarded parts we were eyeing on. A little more time in the pressure cooker perhaps? Balat lovers won't be disappointed though as it was crispy. It Comes with a special dip made of Soy Sauce, Chili, and Onions that will leave you refilling.
For the Desserts – A creamy Buko Pandan to take the "Umay" away!
Catch the Crispy Pata fever this 2011! Max's Crispy Pata Feast is available for dine in or to go, from January 20 to February 20, 2011. Log on www.maxschicken.com or visit www.facebook.com to sign up for Max's fan page and learn more about the best offerings and most scrumptious dishes from Max's this 2011.
Hanggang Sa Muli! Paalam! 🙂
_________________________________
By: DENCIO

Originally Posted On: www.DENCIO.com
Do You Like This Post?
Subscribe to the RSS Feed
Follow me on Twitter
Like me on Facebook
Email Me