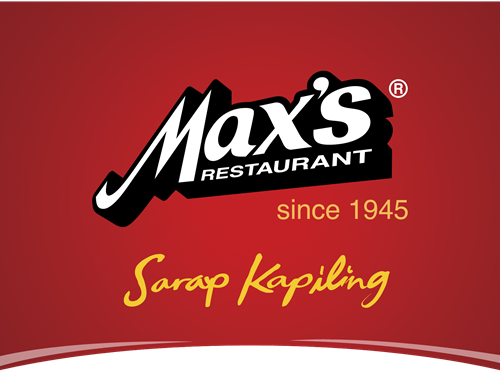 Max's Restaurant Reinvents itself and keeps up to technology by offering state of the art and industry-first services to their clients.
FIRST: Max's Restaurant Launches their Online Delivery Service
Now, you can Order your favorite Max's Dish by clicking a few mouse buttons! This service is available to anyone, even if you are residing in another country! YES! Now even your loved ones abroad can order food for you! All they have to do is place an order online, pay via credit card, then the food will be delivered to their preferred Philippine Address. How cool is that! 🙂
Max's Delivery Terms and Conditions:
Orders must be placed at least 24 hours (1 day) in advance (Philippine local time).
This service is initially available for delivery within the Philippines only.
All transactions will be settled in PHP (Philippine Peso), and the minimum required purchase is worth Php 500.
Credit cards will be billed at the time the order is placed.
As proof of a fulfilled order, an electronic copy of the Delivery Receipt will be emailed to the purchaser indicating the time, date, and name of the recipient of the order.
Cancellations should be made at least 12 hours before actual delivery time and date. Cancellation of order made within less than 12 hours before actual delivery time and date ahead of the delivery date (Philippine local time) will be subject to cancellation fee. Customer is required to contact Max's Online team via email or telephone to cancel the order.
Revisions/changes in the order will be accepted up to 12 hours before the actual delivery date (Philippine local time). Changes are subject to confirmation and additional cost if applicable. Said changes/revisions may cause delay in delivery.
Prices are subject to change without notice.
The delivery area for provincial branches is within a 5 kilometers radius of the branch.
Some provincial areas are considered unserviceable. Max's Online will update you if your recipient's address cannot be serviced by our delivery team.
You may set the Delivery, Dine-in or Pick-up time schedule of your order from 9:00am to 7:00pm. Earliest time schedule is 9am in the morning while the latest would be 7pm in the evening.
SECOND: Max's Restaurant Launches their Remittance Delivery (BDO Food Remittance)
"BDO Unibank, Inc. through its remittance service brand BDO Remit, has expanded its food remittance service, now offering delectable meals from Max's Restaurant. BDO and Max's Food Remittance Delivery allows Filipinos overseas to order Max's meal packages abroad and have their orders delivered to their loved ones in the Philippines. Filipinos overseas just have to visit any BDO Remit office in Hong Kong, Macau, United States, Italy and Germany or any of the bank's participating remittance partners in Asia, Middle East, North America and Europe. Max's meal packages are good for 5, 10 or 20 people and are available for delivery to Metro Manila and selected provincial areas. For non-serviceable areas, the beneficiaries of Filipinos abroad may dine at their preferred Max's branch or enjoy their Max's meal packages at home."
Similar to their Online food Delivery, this service aims to serve Filipinos with Relatives Abroad or an OFW family member.
THIRD: The new Look of Max's Restaurant Delivery (7-9000)
Aiming to make their delivery service men look more decent, professional looking, and safe on the road, Max's provided them with a fashion-forward, Motocross inspired uniform/jacket to complement their new and amazing delivery motorbike. The lining of the jacket is actually reflectorized to make them more visible during night delivery.
Now, an Industry First here in the Philippines! The delivery bike with Electro Luminescent Panels!
The Max's Logo and the Delivery number panels are lighted. This achieves as a safety feature for riders at night, and adds as an effective tool of advertisement. A first in its class. Hats off to Max's for introducing this to the country. I can see that this will be an Industry standard soon!
By offering World Class and Top Notch Services, its no surprise that Max's Bags Awards every now and then. For the latest – Kudos to Max's for conquering the Inquirer Libre Award and Outdoor Advertising Award.
We'll there you go! Great Work Guys! I just have one request though – Please bring back your Chicken-All-You Can Promo! 🙂
Hanggang Sa Muli! Paalam! 🙂
_________________________________
By: DENCIO

Originally Posted On: www.DENCIO.com
Do You Like This Post?
Subscribe to the RSS Feed
Follow me on Twitter
Like me on Facebook
Email Me