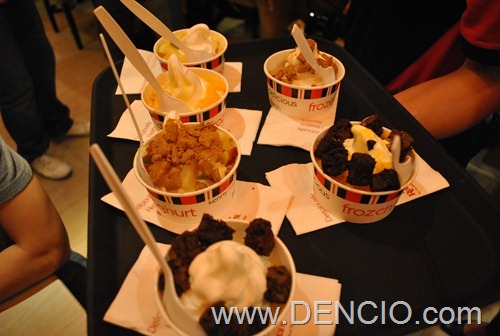 Great news to all Froyo Lovers! Kenny Rogers Philippines is offering a Buy one take one promo on their Large Plain Froyo. This is a great alternative to ice-cream. Its delicious, cheap, healthy and it's a good way to cool down this summer!
A bit of a review, their froyo taste good! just like any other (plain) froyo out there. The main difference is the price. you cannot buy a big cup of plain yogurt anywhere else for only P55. It is cheap but the quality is the same as the others!
Read More for the details:
|
(Click on the image to enlarge)
Promo Mechanics:
1. FREE product can be of the same kind or of lesser value.
2. Promo is valid only for large plain variants and does not include toppings.
3. Valid only during weekdays from 11 :00 AM to 4:00 PM.
4. Valid for dine-in and take-out orders.
5. Not valid with other in-house promos or discounts.
6. Not valid for bulk-orders or delivery.
7. Valid only at the following Kenny stores listed below.
8. Promo Period: May 19 to June 19, 2011
Participating Kenny Rogers Branches:
Kenny's Froyo is one, if not the cheapest, froyo in the market today! Now, it gets even better! You, your friends, and family don't have to pay a lot of money just to enjoy a cup of Frozen Yogurt! Go and enjoy a cup of Kenny's froyo on a branch nearest you! This promo is available at Kenny Rogers' 28 Branches around the metro!
If you haven't tried one before because you think it won't taste good or because it is very expensive, this is the perfect time for you!
Hanggang Sa Muli! Paalam!
_________________________________
By: DENCIO

Originally Posted On: www.DENCIO.com
Do You Like This Post?
Subscribe to the RSS Feed
Follow me on Twitter
Like us on Facebook
Email Me