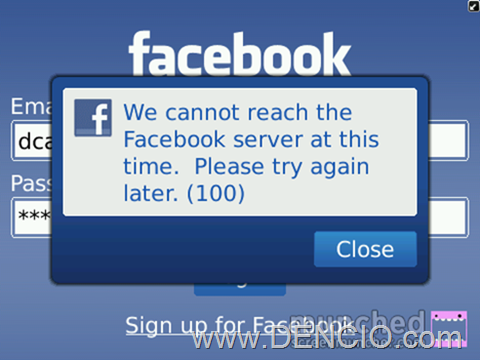 I recently upgraded my Facebook and Twitter applications for Blackberry to 2.0. After upgrading my applications, I noticed that the two applications were not connecting. I am getting these errors.
FACEBOOK APP ERROR:
"We cannot reach the Facebook server at this time. Please try again later. (100)"
TWITTER APP ERROR
"BWP Security Token Retrieval Failed"
I tried removing and reinstalling the applications but the same error occurred. I called the Globe Hotline if they are aware of the issue or if it has something to do with Globe's BB Social subscription (Because the apps work fine if I am connected via WiFi) but the person I talked to was not aware of the problem. I even posted the issue on the Blackberry Forums Website but there was no help.
I brought my phone at Globe Business Center and they were not also aware of the issue. They Advised me to refresh (reformat) my Blackberry, which I did. But after reinstalling the apps, it still does not work. They even advised me to have my Blackberry Sent to Singapore for Repair! WHOA!
Few days after… I tried calling Globe's Hotline Again. It was probably my lucky day! The tech support lady was aware of the issue! She said that my BB Social was activated as a Postpaid account instead of the BB Social for a Prepaid Account. She advised me that she will update my account in the system and I just need to reboot my BB after 1 hour. After 1 hour… Voila! Everything is back to normal! What a relief!!
The issue was a bit weird, why would I be able to register for a postpaid BB Social – and work – if my BB is a prepaid account. But nevertheless, the fix worked.
If you are experiencing the same errors on your FB and Twitter Blackberry Applications after upgrade and you are subscribed to Globe's Blackberry Social Plan. I hope this helps fixing the issue.
Hanggang Sa Muli! Paalam!
_________________________________
By: DENCIO

Originally Posted On: www.DENCIO.com
Do You Like This Post?
Subscribe to the RSS Feed
Follow me on Twitter
Like us on Facebook
Email Me