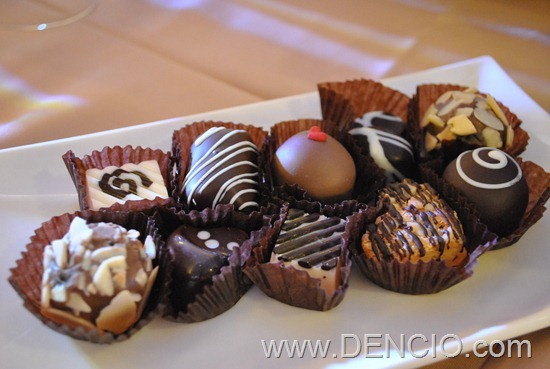 Aside from their world famous fried chicken and wide array of delicious pinoy food, here are 5 more reasons to celebrate Valentines Day at Max's Restaurant!
Whether you are with your Loved One, Family, or Friends, you will surely enjoy these sweet and delicious limited offerings from Max's Restaurant.
Reason Number 1 – Premium Chocolate Selections!
Tired of Store bought chocolates that you can actually buy whole-yea-round? Why not try these assorted premium chocolates! For just P199.00 per 15/pc box, your special someone will definitely enjoy choosing among the different flavors! Every pick is a Surprise! It comes in a beautiful packaging which is very handy for an Instant Valentines Gift!
Reason Number 2 – Cute Bear!
Single? No Problem! Let these Cute Valentine Bears be you Valentine Date! But Don't get too attached thought… you'll have to eat him soon enough! High Maintenance? Not at All… you get the bear for just P25! Get as much as you want!
Reason Number 3 – Moist Cupcakes!
Let's Keep it Sweet and Simple… These 3 Cupcakes Says it all… The 3 words that you want to hear from your date… You'll Get Fat! Just Kidding! Indulge in these super moist yet not too sweet Cupcakes! One pack of 3-pcs Cupcakes is just P135! You'll get a Black Forest, Blueberry, and Choco Banana!
Reason Number 4 – Heavenly Chocolate Cake!
If that is not sweet enough… Try this Baby! Moist Chocolate inside, Premium Chocolate Outside! For Just P199 this treat will really melt your date's heart!
Reason Number 5 – Heart Shaped Cakes!
Finally, Since it is V-Day, For A limited time only… Max's Corner Bakery will offer their famous cakes Heart Shaped! Choose from a Variety of Flavors!
Broken Hearted?
Don't Worry, I'm sure all these Goodies will also cheer you up this Valentines Day! 🙂
So go and celebrate your Valentines Day at any Max's Restaurant Near You! Great Food, Great Desserts, Great Gifts! This is a limited edition offer… Grab it while it last! 🙂
PS: One more reason to Celebrate V-Day at Max's. As a heart-warming gift from Max's, diners will receive a box of melt-in-your-mouth pastry bites by Max's Corner Bakery for a minimum spend of PhP1,500 from February 10 to 14. Yes! Dessert is on the House!
Hanggang Sa Muli! Paalam!
_________________________________
By: DENCIO

Originally Posted On: www.DENCIO.com
Do You Like This Post?
Subscribe to the RSS Feed
Follow me on Twitter
Like us on Facebook
Email Me