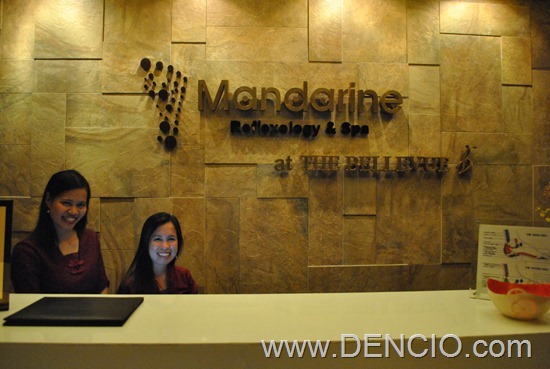 Mandarine Reflexology and Spa Alabang
3rd Floor Tower Wing, The Bellevue Hotel Manila (Alabang)
North Bridgeway, Filinvest Corporate City Alabang, Muntinlupa City
Phone: (632) 771 8181 | Fax: (632) 771 8282
WEBSITE | FACEBOOK | TWITTER
When you are staying at the Bellevue Hotel Manila and you want to be pampered with a Spa Treatment. Chances are you will find yourself in the hands of Mandarine Spa's expert therapists. Mandarine Spa is a full service spa located on the third floor of Bellevue's tower wing, near the pool area and is the only spa inside the hotel. Mandarine is a very well known spa in the Alabang area since they used to have a branch (a smaller one) in Casa Susana in Alabang Town Center and they are known for their excellent Foot Spa and Reflexology Treatments. Aside from Foot Reflexology they also offer a wide array of services like Massages, Scrubs, Facials which are all priced reasonably. Their services are priced starting at P850 which is very competitive considering that the spa is inside a 5-star hotel.
Upon entry to the Spa you will smell the calming smell of essential oils, enjoy peace and quiet, be relaxed with the ambient music and will be greeted by their super friendly receptionists. If you are new to the spa, they will be more than happy to guide you in choosing the perfect treatment.
Upon choosing your preferred treatment, You will be asked to wait for your therapist in the waiting area. After a few minutes your will be fetched and will be escorted – depending on the service – either to the treatment room, the locker, the Jacuzzi, or the sauna. Then the treatment commences.
As expected, the treatment was good. Mandarine Spa really has excellent therapists. The treatment rooms were excellent as well. They are spacious, quiet,very clean and cozy. To end the treatment, a complimentary hot tea. 🙂
So if you are looking for a new spa. One with complete amenities, excellent therapists, quiet, and has very reasonably priced services, then you have got to try Mandarine Spa in Bellevue Hotel.
Hanggang Sa Muli! Paalam!
_________________________________
By: DENCIO

Originally Posted On: www.DENCIO.com
Do You Like This Post?
Subscribe to the RSS Feed
Follow me on Twitter
Like us on Facebook
Email Me