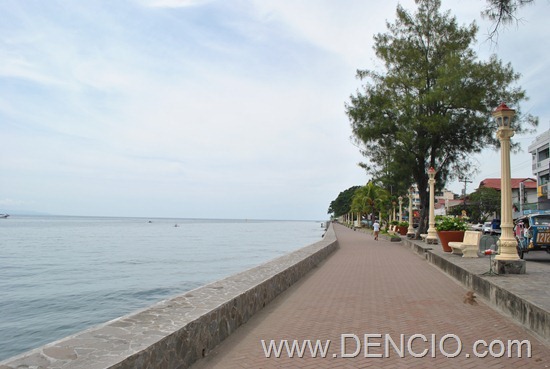 You are going to Dumaguete and Siquijor for the first time. You only have 3 days and 2 nights. Usually a long weekend, and you want to make the most out of your trip. Well, I will share with you guys my tried, tested and re-tested Dumaguete-Siquijor 3D2N Itinerary!
Quick Overview:
Day 1: Siquijor – Fly-In
Day 2: Siquijor-Dumaguete
Day 3: Dumaguete – Fly-Out
TIP: Choose the earliest flight to Dumaguete that you can get so that you can get to Siquijor Early. Then choose the latest flight out of Dumaguete on your third day so that you have time to relax and shop some more.
DAY 1
Now, lets assume that you will be landing in Dumaguete Airport on a Friday at around 9AM.
TIP: If you are sea sick, this is the time that you have to chew on those motion sickness meds!
Upon arrival, you need to ride a tricycle going to the Dumaguete Ferry Terminal which is along Rizal Boulevard. The distance from the airport to the Ferry Terminal is around 3-4KM or 10-15 minutes via Tricycle. Once you reach the Pier, immediately go inside and buy the earliest ferry ticket you can get going to Siquijor. Usually, Trip starts around 9AM hourly (schedule may vary) until around 3PM. But you want to get the earliest trip so that you will have more time exploring Siquijor. There are air-conditioned and non-air-conditioned ferries and the Ticket + Terminal Fee cost around P150. Now, Let's assume that you were able to get the 10AM Ferry Schedule to Siquijor.
The ferry ride… Then After 1 hour of this…
You will be welcomed by the White Sand Pier of Siquijor…
Upon reaching Siquijor and you do not have any tour arrangements yet, don't worry. Depending on the season, you can hire a Multicab just outside the pier. The driver will tour you around the island. Don't worry! They know exactly where to go and what to show you so expect a hassle free tour! The going rate (as of September 2012) was around P1,500-2,000 per Multicab on a Half-day tour 4-5 Hours. You can get a cheaper rate if you are good at haggling. Yes, they can converse in Tagalog and English! 🙂
A Multicab can accommodate around 6 people comfortably with bags. If you have kids with you, I suggest you book your tour with the resort like Coco Grove Beach Resort because they can provide an air-conditioned van for the tour which is slightly more expensive but definitely more confortable and safe for the kids. But for adults, riding the Multicab around the island is a great experience. You get to see the great views of the island and take in some fresh air along the way.
So you arrived at Siquijor at around 11AM just in time for lunch. Go grab Lunch at Sammy's Pizza (The Drivers know this place, it is popular) and then head for your tour. You will be touring the Island for 4-5 Hours. There are no restaurants along the way so fill-up!
After the tour – which ends around 5:00 in the afternoon – the driver will drop you off to your resort or hotel. In this case we went to Coco Grove Beach Resort (which IMHO is the best you can get in Siquijor). Now its time for some R&R the whole night until the next morning.
TIP: Upon check-in at the resort, tell the front desk to buy you Ferry tickets for the next day. Less worries, more R&R.
DAY 2
Very productive day one I must say! The next day, you will be checking out the resort at around 11:00 AM, leave the resort at around 11:30 AM and board the 12:30 PM ferry back to Dumaguete. You will reach Dumaguete City at around 2PM just in time for your Hotel Check In! This time, we checked in at Go! Hotels Dumaguete. Now you have the whole afternoon to yourself and to walk around the city. Dumaguete is a very small quaint city. Big Roads, Less Cars, Relatively safe so walking is not a problem. If you get tired along the way, just hail one of the Tricycles and pay P8.00 per ride. During this time, I suggest you take time to buy some souvenirs and pasalubong in one of the souvenir shops around the city.
If Manila has "Dampa" and Cebu has "Larsian", Dumaguete has the "Kamalig" it is a Paluto-Grill-Bar-Hang out Place with great live music! It is the perfect place for dinner and night cap. Kamalig is located near the Ferry terminal and Silliman University. Just ask around, they know exactly where this is!
DAY 3
Hangover? Why not! The reason why I suggested that you take the latest flight out is because you still have to shop! Day 3, I suggest that you wake up early. Get breakfast in their clean public market or in one of the restaurants along Rizal Boulevard. After breakfast, head to Silliman University – walk it off! Yes, you can stroll around the campus freely! You can go to the Museum, Gymnasium, and Cultural Center. After the campus tour, go walk to Panda's Fried Ice Cream house. Here, you can try Bacolod's famous Fried Ice Cream. After that, you can walk to Sansrival to grab lunch, enjoy some coffee and to buy pasalubong! This place sells AMAZING Sansrival! I don't eat Sansrival before I tried theirs!
Now you are all set! You can stick around if you still have time. But if your have to fly out already, go back to the hotel – pack it all in – then ride the Tricycle back to airport! 🙂
Simple Right? Let's Recap Shall We?
Day 1:
Fly-In to Dumaguete
Go to Siquijor
Tour Siquijor
Stay the night
Enjoy the beach
Day 2:
Enjoy the beach
Go back to Dumaguete
Shop for pasalubong
Explore Dumaguete City
Get a Massage!
Dinner at Kamalig
Night Cap
Day 3:
Wake up early
Grab breakfast along Rizal Boulevard
Tour Silliman University
Grab a Fried Ice Cream
Don't ever, ever forget to bring home some Sansrival
Fly-out of Dumaguete
Final Tip: Timing is Key! Stick with the Schedule! There is very little room for delay. 🙂
So What do you think? Easy and Fun right? Maybe next time I will share my 4D3N Bacolod-Dumaguete-Siquijor-Dumaguete-Bacolod Itinerary! hahahaha! 🙂 But for now, try this and tell me how it went! 🙂
Hanggang Sa Muli! Paalam!
_________________________________
By: DENCIO

Originally Posted On: www.DENCIO.com
Do You Like This Post?
Subscribe to the RSS Feed
Follow me on Twitter
Like us on Facebook
Email Me