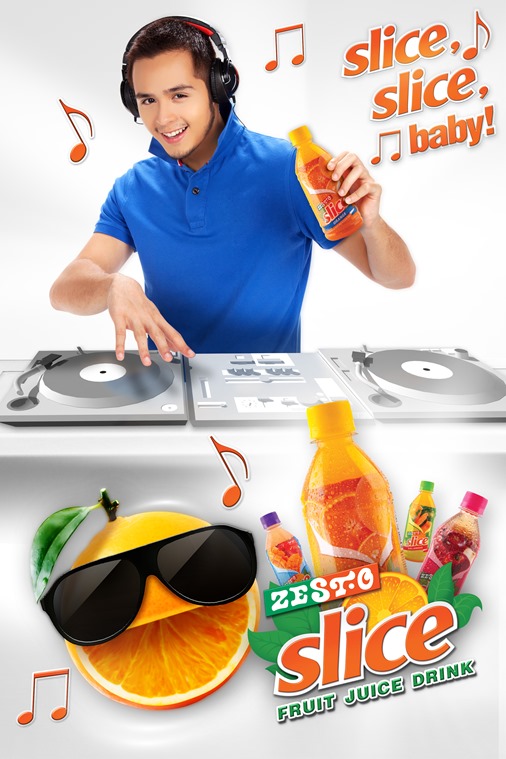 For most of us (the young once at least) we all remember Zesto as the super sweet juice in a doypack where punching in the straw is a big challenge. Now, Zesto offers more convenience. Aside from the usual Zesto Juice drink that we all love, they introduced a new line of fruit juice product – Zesto Slice.
Zest-O is proud to announce its newest product namely Zest-O SLICE fruit juice drinks. Zest-O SLICE is a fruit juice drink that brings all the goodness of your yester years into a delightful beverage that fits your modern lifestyle.
Zest-O SLICE comes in 355ml bottle, that is just the right amount to quench your thirst and isn't heavy on the pocket. It comes in four flavors. The first two flavors are straight fruit flavors that is a sure hit to Filipino consumers, Orange and Dalandan flavors has been formulated basing on the 30 years of experience of Zest-O in providing quality fruit juices. The last two flavors are our mixed fruit flavors, playful and exciting new taste, Grapple is a combination of Grapes and Apple, light and refreshing. Mango Bursts is a combination of Mango and strawberry delighting the taste palates of choosy consumers.
Here are the 4 flavors of Zesto Slice:
Mango Burst: Mango and Strawberry in one. This one is a bit on the sweet side and the between the 2 flavors, the strawberry flavor dominates the mango.
Grapple: Grapes and Apple, this one is good. I love the combination, if served chilled or iced it becomes a very refreshing juice drink. The grape flavor dominates the apple.
Orange: Classic Zesto taste. WARNING: Don't drink at room temperature
Dalandan: This one is my favorite. The distinct taste and flavor of dalandan is very refreshing and enjoyable. I was expecting that it would taste very artificial but I was wrong. It was really good!
Zesto Slices are available everywhere and is sold around P18.00. These juices are best served iced or chilled.
To know more about Zesto Slice, you may visit their Facebook Page at https://www.facebook.com/ZestoSlice.
Hanggang sa muli, Paalam!
_________________________________
By: DENCIO
Originally Posted On: DENCIO.COM
Do You Like This Post?
Subscribe to the RSS Feed
Follow me on Twitter
Like us on Facebook
Email Me
Read More Posts HERE