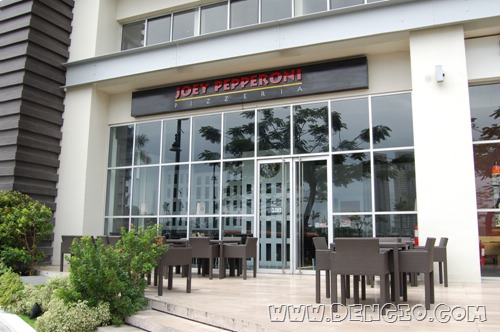 Few weeks after blogging about Joey Pepperoni Pizzeria, I received an email from one of their marketing officer – Ms. Eddnell – inviting me (and a few of my friends) to blog for them once more. This time, it will be at their posh branch at The Fort. At last, my first (and hopefully not the last) blogging gig. So, one Saturday morning we headed to The Fort for an early lunch.
Joey Pepperoni is conveniently located at the Fairways Tower along McKinley Road. It is right beside Starbucks…
The interiors of this branch looks more contemporary and industrial. Very minimal decorations, high ceiling and not very homey. But it is well designed and the elements fit together. The crowd, as expected were more on the upscale peeps living and working on nearby buildings.
The tables in from were not to cozy for daytime dining since there are no shades for the table. however, it can give spectacular view of the city at night.
They have this canvass or paper lamp shade… very cool and unique.
L-R: Xty, Elli, Eddnell
Enough with that Place… Let's move to the food. This time we tried menu items different from before…
This one is a great appetizer! Grilled Italian Sausages sourced from a famous Deli Nearby 🙂 The sausages are very flavorful, smoked and spicy. Perfect match with the sweet and spicy dip 🙂
A light flavored pasta.. perfect combination of herbs and tomatoes 🙂
Bolognese… Again Very basic, taste like.. Bolognese :p
Super Cheesy Pasta with super delicious sauce. It is one of their best sellers.
A HOT! HOT! Pasta dish. Super good with the perfectly cooked Shrimps 🙂
Not your everyday pizza flavor. A nacho pizza… Very flavorful and you can really bite into the toppings. Best served HOT! Thin and Crispy… Just the way you like it!
Joey Peps version of A common dessert… Brownie ala mode… Their very own chewy brownie topped with Vanilla Ice cream… Big Scoop Ata ice cream nila :p
Milk and Chocolate Panna Cotta… I am not a fan of Panna Cotta… 🙂
After that wonderful meal, May take out pa! :p Thanks! Thanks! At May GC pa! hehe! :p
Again, Thank you to the People Behind Joey Pepperoni… Until next time! :p
_________________________________
By: Dennis Christian Angulo
Originally Posted On: www.DENCIO.com