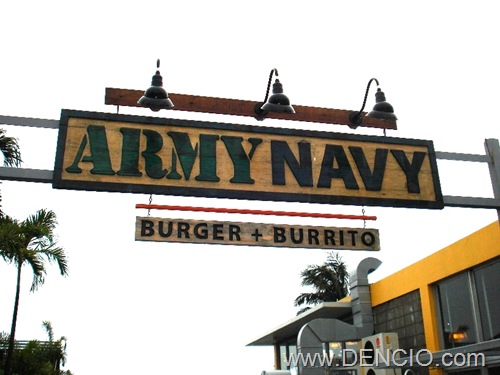 It was a rainy Saturday afternoon. But Rain can't stop me from leaving home, going to Tagaytay and eating a Hefty Triple Patty Army Navy Bully Boy Burger! Which You'll Meet Later!
Army Navy Burger and Burrito is a relatively new Burger Joint in Tagaytay Beside Yellow Cab Pizza, near the area of Starbucks and Pancake House. You won't be able to see it from the road. You have to pull over and walk at the side of Yellow Cab's Building.
Eating Burger, Al-Fresco, with Friends, in the cold Tagaytay Weather! Perfect Tambay Moment!
What they serve are of course Burgers, Burritos, Soft Tacos, and Peanuts! :p
The Place is Self-Service, but while waiting for your order, or your name to be called, they give your some peanuts to keep you busy… It doesn't mean though that it may take a while for the orders to be prepared… Just something to make you busy.. labo! hehe! :p
Now, This one is the Breakfast Burrito (P155)
Why Breakfast? Because what's inside are breakfast items like Eggs, Rice, Bacon, Etc… This is one good and very satisfying Burrito!
Army Navy Freedom Fries (P50)
It was ok, It's just that, that time it tasted like burnt oil… Or something like that. Nothing special about it though…
Onion Rings (P60)
Nothing special about it too.. the serving was small, but of course if you are eating it with a Bully Boy Burger, You won't notice how small it's serving is.. 🙂
This one is the regular burger (P135)
Regular is an understatement. Their regular burger is as big as the bigger burgers in your favorite fast food (BigMac, Champ, Bacon Mushroom Melt, Whopper!)
The Patty is made of 100% Beef… Not sure what kind but it was Juicy! :p
The Bun has black and white sesame seeds on top…
Buns, Onions, Patty, Lettuce, Tomato, Mayo, Ketchup! YUM!
Now, Get ready for the heavy weight! Neatly packed in Aluminum foil, labeled with Pilot's Permanent Marker! :p
This is their Bully Boy Burger "BBB" (P235)
I forgot to ask why they called it bully boy! :p
This one has Three Burger Patties! If you Finish it, you won't feel hungry for the next few days! Hahahaha! :p
The taste, Hmm.. I can't say that this is the best burger I had… for the size, yes, It is probably one of the bigger ones, but the taste… It was made from pure beef, I did not taste any special flavor or something… But it was still very good! The Patties were Juicy and Tender, and with the melted cheese… Hayy!
It was very Heavy! Probably one pound of burger. You can't even bite straight into it… You're jaws might lock if you try so hard! :p
But of Course, I still managed to finish the whole thing :p
Tambay with Friends… L-R: Me, Mau, Joy, Gotch, and Paow (behind the lens)
By the way, this is only snack time, There's still dinner after, Uhm, 2 Hours?! Hehe! :p
For Army Navy's Menu… Please Order HERE! :p (Si ate nacoconcious :p)
Great Comfort Food + Great Tagaytay Weather + Great Company = TAMBAY! :p
If you like burgers, you may also want to read these posts!
Burger Avenue and Charlie's Grind and Grill
Hanggang Sa Muli! Paalam! 🙂
_________________________________
By: DENCIO
Originally Posted On: www.DENCIO.com
Email Me | Post a Comment | Subscribe to My BLOG (RSS) | Follow me on Twitter