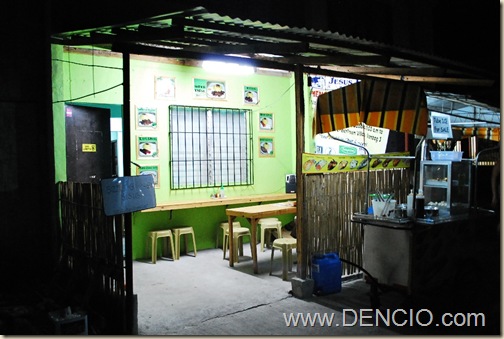 One day, I got an email from a reader named Ryan inviting me to try their Tapsilog in Bacoor Cavite. He sounded very proud of their tapsilog and he claimed that it will be the best tapsilog that I will ever try. It sounded promising, so I decided to visit their tapsilogan.
Laidz tapsilogan is a small tapsilogan located in Greentown Homes in Mambog Bacoor Cavite. It is a home business established by Ms. Adelaida Cadiz hence the name Laidz Tapsilogan. Ms. Adelaida is a retired teacher so she decided to put up a small home-based business. The person who emailed me was Ryan Cadiz, Ms. Laidz Son.
They put-up their tapsilogan in-front of their house. Thier house is located along the main street so it is a great location. Finding the place won't be a problem once you get to the gate of Greentown Homes because the tricycle drivers know the place and can give you directions.
It was a small place, just a couple of tables and several chairs. They cook their tapsilog inside their house. The place was clean and well maintained. It was also very nice of Ms Laidz when she offered their electric fan to us because it was a bit humid that night.
Now the food.
Of course we have to try their tapsilog. Their tapsilog comes in two sizes, the resular tapsilog and the Supertapsi. Supertapsi = Double Order in a single plate. Also I tried the longsilog. But before eating and while waiting for our orders, they served us the most delicious free soup that I have tasted! I mean it! It did not taste like any other free soups out there. It tasted like a good beef nilaga or something! This food trip is starting good.
I intended not to tell them that I will be paying a visit. Just to pretend to be a normal walk-in customer. But as soon as I took out the camera and started taking photos. They Immediately noticed and asked if I was Dencio! Cover Blown! Sayang! Surprise sana! 🙂
Tapsilog P45 Tapa-Sinangag-Itlog
The tapsilog was good. I see now why they are so proud of their tapsilog! What they claimed was true. Although I still Love Matys! Hahahaha! :p But this one is promising. It was tender, juicy and very flavorful. I could say that I can level it to SEX's tapsilog! The serving was big enough and it was Cheap! 🙂 A must Try!
Longsilog P39 Longanisa-Sinangag-Itlog
The longsilog did not disappoint either. It was sweet and spicy, crunchy on the outside and juicy on the inside. Good!
Sisig P55
They also have a new offering. Sizzling Sisig! It was ok but the plate could have been hotter. 🙂 It was not sizzling anymore when served 🙂
I should say that Laidz tapsilog has a potential to become a successful tapsilogan. They only have to introduce their tapsilog outside of the village and on to the main roads. This place is a combination of the great tapsi of SEX and the Hiddenness on the Hidden Tapsihan! 🙂
Here is the menu of Laidz Tapsilogan. As you can see, they already tapped the power of the internet by putting up their own multiply site!
Last Stop on my Tapsilog Series… Rufos Tapa! 🙂
Lastly, I will correct my last post.. This one is not in Imus but Bacoor Cavite! 🙂
Hanggang Sa Muli! Paalam! 🙂
_________________________________
By: DENCIO
Originally Posted On: www.DENCIO.com
Email Me | Post a Comment | Subscribe to My BLOG (RSS) | Follow me on Twitter