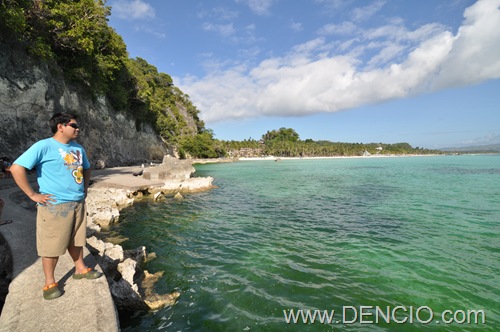 Nigi Nigi Too
Station 1, Boracay Island, Malay Aklan
We arrived in Boracay at around 3PM only to find out that our resort is located at Diniwid Beach – Located at the End point of Station 1. The place was a bit secluded and private and there were not a lot of food establishments around. So we had to walk on the Beach, Rocky Roads, Pass on the side of a cliff, and walk a Mile going to the nearest Boracay Boat Station (Sana nag tricycle na lang pala kami!!!) But anyway we already far from the resort when we realized this so we moved on…
Our last meal was a Snack at NAIA 3 at around 10AM. It was a long bumpy travel, no wonder our Stomach is Growling Already. We are out of energy, thirsty, and Super Exhausted walking on the sandy shore of Boracay under the scorching 3PM Sun! We will eat on the First restaurant that we see on the beach! So while we are walking, we passed by Fridays and other several posh Boracay resorts until something caught our attention…
If you were as hungry as we were, this sign is the best sign you will ever see! :p
Best Burger it is?! This better Be good!
The sign is from Nigi-Nigi Too. They claim that they have the best burger on the Beach of Boracay. The bar is on the beach front of the resort, beside it is their Massage Area which offers a relaxing private massage for just P500 (Relatively cheaper compared to the other private massage/spa in the island). Anyway,  So, we sat on the bar and ordered…
It took a while before the food were served, around 10 minutes. I am already done with my Mango shake before the food were served. But It was ok… no rush.. I am on vacation…
My Very First Mango Shake in Boracay: P100.00 Definitely Worth it!!!
Open Faced Tuna Melt Sandwich served with Fruit on the Side P180.00
I love tuna melt sandwich, tuna salad and melted cheese, ON THE BEACH! Perfect!
Now, the alleged best burger on the Beach P190.00,  (+40 for cheese, +40 for bacon, + 40 for Fries)
The one on the top is the basic burger, just the Patty and Some Tomatoes and Lettuce. The one on the bottom, is the one with bacons and cheese. Great American Style Burger. The burger was big! It was about the size of my Palm. The patty was made from 100% beef according to the barista. I forgot to ask if it was fried or grilled – but who cares?. We were so hungry that the waiting time for the food was longer than the time we finished them all.
Best burger on the beach?! Hmm, Probably! It was juicy, filling and very tasty. Not the best I tasted but could pass as the best burger in Boracay. (Although There is also another Burgeran in D'Mall, which I have not tried).
After that wonderful meal we are now recharged and ready… For Dinner at Le Soleil De Boracay.
Hanggang Sa Muli! Paalam! 🙂
_________________________________
By: DENCIO

Originally Posted On: www.DENCIO.com
Email Me | Post a Comment | Subscribe to My BLOG (RSS) | Follow me on Twitter