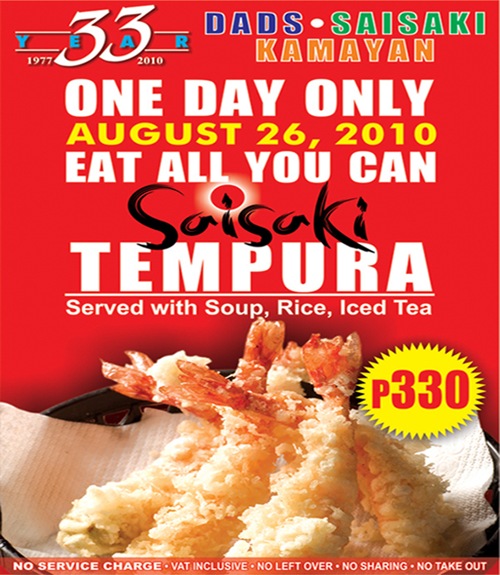 Saisaki-Dads-Kamayan Branches and Contact Numbers
Glorietta – (632) 892-8897
EDSA – (632) 722-8125
Megamall – (632) 636-3785
Padre Faura – (632)528-1723
West Avenue – (632) 413-6359
In celebration of their 33rd year, Saisaki, the Japanese Division of our All-Time favorite Cross-Over Buffet Restaurant is Offering – Tempura All You Can for just Php330 NET! That's inclusive of Rice, Soup, and Iced Tea!
Here's the Promo Poster
(Photo Courtesy of http://www.kamayansaisakidads.com/)
I think this is a great offer considering that in other Japanese Restaurants, an order of tempura, around 3-5 pieces cost almost the same, if not higher! Also, if you add a few more hundred pesos, you can enjoy the Full Cross-Over Buffet – Which also Includes the Tempura.
So if your are a certified tempura addict lover, you should avail this ONE DAY ONLY promo on 26 August 2010.
THIS JUST IN: I Just called up someone from Saisaki and the person who answered the phone confirmed the promo and also said that it will actually be a 3-DAY PROMO. If that is true, You can enjoy 3-Days of Bottomless Tempura! That's from August 26 to 28 2010!
One Last thing, Patience is a virtue when eating tempura at Saisaki. Most of the time, if not always, even without this kind of promo, the Tempura on the buffet table are always sold-out. There is really not enough for everybody! So… be Patient! 🙂
I'm Not sure if I am going to try this, Like I said, a couple of hundred bucks more and you can enjoy the full cross-over buffet! :p
Hanggang Sa Muli! Paalam! 🙂
_________________________________
By: DENCIO

Originally Posted On: www.DENCIO.com
Do You Like This Post?
Subscribe to the RSS Feed
Follow me on Twitter
Like me on Facebook
Email Me