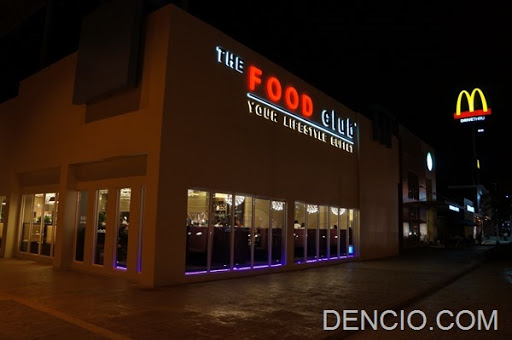 The Food Club Buffet Manila
Address: Building E, Bluebaywalk Metropolitan Park, Macapagal Avenue Pasay City.
Contact Numbers: 02 7368001 | 09064281669 (globe) | 09983133246 (smart)
Website: www.thefoodclub.com.ph
Email: info@thefoodclub.com.ph
Facebook Page: https://www.facebook.com/TheFoodClubPH
The Mall of Asia Complex and Macapagal Boulevard is slowly but surely becoming the Buffet Capital of the Metro. To add to the roster, Another buffet restaurant opened in the Manila Bay Area – The Food Club. Apparently, this place still accommodate another buffet place competing against the seasoned buffet restaurants in the area like Vikings, Buffet 101, Yakimix, and even Spiral! The main differentiating factor probably is that the Food Club is categorizing itself as a Lifestyle Buffet Destination which in my interpretation is positioning itself in between the mainstream competitors and of course the high end buffet restaurants. This is just my opinion, which is very possible considering that the location also says a lot about its target market. It is not located inside a mall but instead it is situated in a sort of high end lifestyle area being developed along the bay area similar to Bonifacio High Street, Serendra, and Capitol Commons.
Moving on, I visited the Food Club to give it a try. Upon entry you will be greeted by the familiar reception area. The layout is not much different from the other buffets around the area, but one thing noticeable about the place is it was cleaner than the other buffets around. A big reason is probably since they are fairly new. I hope they maintain the cleanliness since it is a big factor for most people including me.
The interior was very elegant. Crystal chandeliers, the waiters look classy, and the tables ad chairs were similar with what you have in Hotel Buffets.
When I was dining, I saw a familiar face among the crowd, checking the food on the spread. It was Chef Raffy Hubilla, whom I have known before when he was still the executive chef for Acacia Hotel Manila. Apparently, he is not connected with the Food Club. We had a small chat then I headed back in the buffet.
The food was really good that day and there were tons of choices! But among the sea of dishes, there were a few which stood out. The prime rib was super tender, the Baked Lapu Lapu was super flaky and flavorful and the there were tons of seafood around. And also to mention, the embutido was delicious as well. The buffet like its neighbors boast a complete array of stations from Soup, Salads, Appetizers, Mains, Pasta, Desserts and of Course Drinks.
Here are the rest of the spread during our dinner.
Now with all that food and elegant ambiance, how much you think you have to pay for dinner?
Here's The Food Club's rates, buffet price, and operating hours.
Hanggang sa muli, Paalam!
_________________________________
By: DENCIO
Originally Posted On: DENCIO.COM
Do You Like This Post?
Subscribe to the RSS Feed
Follow me on Twitter
Like us on Facebook
Email Me
Read More Posts HERE