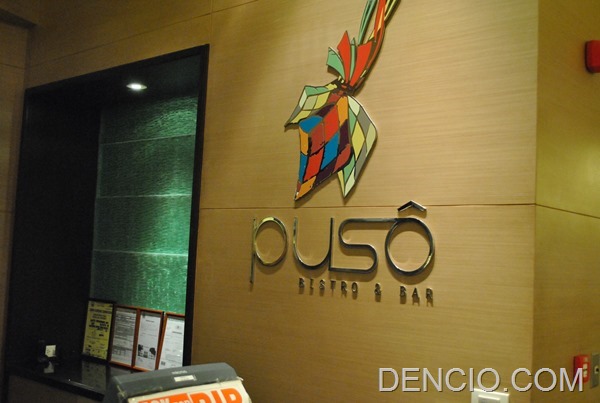 Pusó Bistro and Bar, Quest Hotel & Conference Center Cebu
Address: Archbishop Reyes Avenue, Cebu City, Philippines
Location: Right beside Ayala Center Cebu
Contact Number: +63 32 4025999
Email: CebuInfo@Quest-Hotels.Com
Website: http://www.questhotels.com/location/hotel/3-Quest-Hotel—Conference-Center—Cebu
Facebook: https://www.facebook.com/quest.hotelcebu
Twitter: https://twitter.com/QuestHotelCebu
Puso Bistro and Bar is the flagship restaurant of Quest Hotel Cebu. Puso serves breakfast, lunch and dinner buffets everyday. And would you believe, for only P499 (promo price) you get to enjoy a wide array of hotel quality dishes like Tempura, Roast Beef, Ribs and Sushi! Like most hotel buffets Puso also rotates their dishes and offer a sort of themed buffet spread every night to keep the buffet more interesting and offer variety especially to their long staying guests.
During my recent stay at Quest Hotel Cebu I was able to try their Dinner buffet. Puso offers a mid-sized buffet. It has a Japanese Station, Pasta Bar, Carving Station, Salad, Noodles, Soup, Appetizers, Bread and of course Main Course and Dessert. Most of the items/dishes in the buffet are rotated except for the mainstays like the salads, sushi and tempura.
That night, I personally enjoyed the dumplings, the huge steamed lapu-lapu, the chicken in tomato sauce and the breads. There was ribs, but it was just ok, not fall off the bone. If you noticed in my other buffet reviews, I don't really comment much on the Japanese stuff like sushi, maki and sashimi. The reason, I don't really eat raw stuff.. Boo me! I know, it sucks. 🙁
The pasta was good as well as the noodle soup. The fruits were good as expected and for the desert, I enjoyed the cheesecake and of course, the crepe!
The winner of that night was the assorted tempura. There were fish, veggies, and of course shrimp. The breading was really good as well as the tempura sauce.
A Hotel buffet with a Pasta Bar, Crepe Station, Ribs and Tempura for only P499? That is a steal! No complaining there! This August, Puso will be offering additional food stations and more dishes for the enjoyment of their clients. P499 is just a promo rate, the regular rates/price is around P800. Which in my opinion is still very reasonable considering the size of the buffet spread and the location.
Will visit Puso again this August, will keep you updated! 🙂
Hanggang sa muli, Paalam!
_________________________________
By: DENCIO
Originally Posted On: DENCIO.COM
Do You Like This Post?
Subscribe to the RSS Feed
Follow me on Twitter
Like us on Facebook
Email Me
Read More Posts HERE