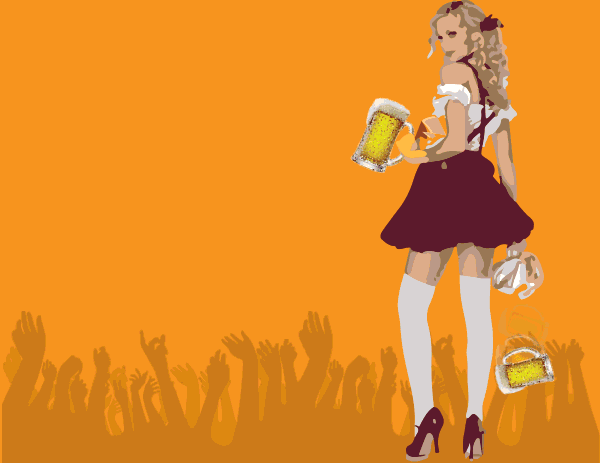 Well this is new!
If Sofitel Manila will Host the Manila Celebrations in a Huge Tent, Cebu will be having their celebrations in a beach front set-up! So If you are in Cebu this October 25 2013 then you better head on to Crimson Resort and Spa to Celebrate the 75th Oktoberfest in the Philippines and enjoy free flowing booze and a wide array of authentic Bavarian food extravaganza.
"Beer drinking has become a solid part of Filipino's culture; it's something hard to miss whenever there are celebrations and gatherings. And when the month of October comes different Oktoberfest celebrations sprout from all corners of Cebu. Yet, nothing will match what Crimson Mactan has in store for beer drinkers and those who appreciate the culture that it celebrates.

On Friday, 25th of October, be part of a German Oktoberfest by the beach with free flowing beer, unlimited German fare and dance to the music of the Bavarian Sound Express from Munich; the same band that will stage a 2 day fare in Manila and will come to Cebu for a one night only event at the beautiful beachfront location. The party starts at 5:30 in the afternoon.

Exciting German games will be played during the event with equally exciting prizes including vouchers for hotel accommodation. Those who will come in traditional German costume will be part of the best dressed competition where the best dress male and female attendee will be given a special prize. Raffle prizes are also up for grab.

Oktoberfest tickets are sold at P2,500nett inclusive of unlimited beer and German buffet. Book early and avail 10% discount from September 18 to October 7, 2013. Get the same discount when you purchase at least 10 tickets.

Tickets are sold at Crimson Resort & Spa Mactan, Quest Hotel & Conference Center – Cebu and Ayala Center – Cebu. For inquiries and tickets call 401 – 9999 or email info.mactan@crimsonhotel.com."
Hanggang sa muli! Paalam!
_________________________________
By: DENCIO
Originally Posted On: DENCIO.COM
Do You Like This Post?
Subscribe to the RSS Feed
Follow me on Twitter
Like us on Facebook
Email Me
Read More Posts HERE