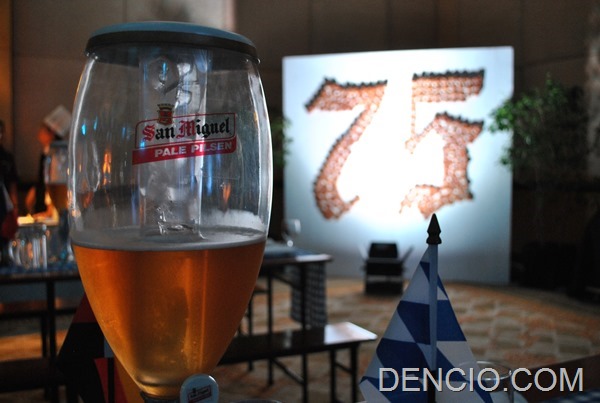 Similar with the German Club of Manila and Sofitel Manila, the annual Oktoberfest celebration has also, sort of, became a tradition in dencio.com. I have been blogging about the event for several years now and what I can say is, the tradition stays true to the original Oktoberfest but the celebration gets bigger and better every year.
This year, the 75th Oktoberfest will be celebrated here in the Philippines. That means, Barrels and Barrels of Beers and Pounds and Pounds of Bavarian food will be served again at Sofitel Manila's newly renovated Harbor Garden Tent on October 18 and 19. A close to home party for our German Friends and a Truly Magnificent Cultural Experience for Filipinos.
Some Oktoberfest Trivia by the Numbers:
28, 548 Maß beer (traditional one liter mug) consumed in a span of 2 days during Oktoberfest 2012. 
3,500 – Number of people that came to Oktoberfest 2012
950 kgs of German sausages consumed (Ring Bratwurst, Cheese Sausage, Cervelat Sausages, Münchner Weisswurst, Münchner Bratwurst and Hungarian sausages) in a span of 2 days during Oktoberfest 2012. 
260 kgs of Pork knuckles consumed in a span of 2 days during Oktoberfest 2012. 
200 kgs of Sauerkraut consumed in a span of 2 days during Oktoberfest 2012. 
75 – years of existence of Oktoberfest and the German Club in the Philippines (since 1906)
4 – Years that Oktoberfest is held at the Sofitel Philippine Plaza
Bavarian Sound Express -The name of the Bavarian band specially chosen to play at Oktoberfest 2013
Of course the stars of the Show are the Beers and the Food! The beer will be provided by our very own San Miguel Brewery but the food, an all-imported array of traditional and authentic Bavarian goodness!
You must try the cheesy something sausage! It is so good! Crispy tight skin, juicy meaty goodness with cheese that literally burst in your mouth in every bite!
To pump up the celebration, The Bloomfields will be rocking the house with their retro 60s music when they perform on the October 19.
Worried about getting drunk away from home? Don't worry… get a room!
"After reveling all night long, get a restful sleep at Sofitel Philippine Plaza. The hotel is offering special rates for Oktoberfest ticket holders at Php 5,000 nett for a superior room. Wake up to a hearty and lavish Spiral breakfast for an additional Php 1,200 nett per person.
Adding excitement to this year's grand celebration is the raffle draw with over 4 million worth of prizes. Exciting prizes include a roundtrip business class ticket to Germany with Etihad, Mercedes Benz weekend drives with overnight stay in Baguio, laptops, DSL cameras from Canon, I-pads from Mac, Levis jeans, Puma shirts and many more. Proceeds go to the German Club's welfare projects."
For ticket prices and other inquiries, please call the The German Club Manila at 817 3552 or 818 4236 (for entry and raffle tickets) or Sofitel Philippine Plaza at (632) 832.6988 and (632) 551.5555 ext. 6988 (for room reservation), or email germanclub@germanclub.ph or fbreservations@sofitelmanila.com.
Hanggang sa muli! Paalam!
_________________________________
By: DENCIO
Originally Posted On: DENCIO.COM
Do You Like This Post?
Subscribe to the RSS Feed
Follow me on Twitter
Like us on Facebook
Email Me
Read More Posts HERE