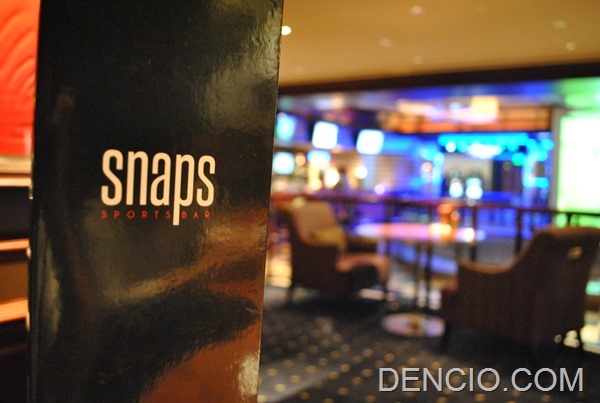 Snaps Sports Bar
Sofitel Philippine Plaza Manila, CCP Complex Roxas Boulevard Pasay City
Contact Number: (02) 551 5555
Website: http://www.sofitelmanila.com/en/snaps-sports-bar.html
Facebook: https://www.facebook.com/SofitelManila
Twitter: https://twitter.com/SofitelManila
We often associate Sofitel Philippine Plaza with its uber famous buffet restaurant Spiral. But hey, I don't blame you! A lot of people are even more familiar about Spiral than Sofitel. :p But the fact is, there's more to Sofitel than their infamous buffet, they have other specialized food outlets which caters to the discerning tastes and unique culinary needs of their clients. One of of them is Snaps Sports Bar.
Snaps Sports Bar is located at the lobby level of Sofitel Manila near the Hotel's Gift Shoppe and Vietura. It is a 24-hour casual dining establishment which caters to sports enthusiast, bar lovers and the men (and women) who just want unwind, watch and play some sports while enjoying some delicious comfort food – which is the house specialty.
[Coming from the elegant lobby of Sofitel] Upon entering Snaps, you will immediately be transported to a totally different place. A staff dressed in a sporty outfit will usher you in and get you seated in one of their booths. You will immediately notice all the beautiful sporty sporty stuff inside snaps. There's a lot of them but it was not too much. There are a lot of amazing photos of you favorite sports superstars (Sofitel spent 1 Million pesos in buying these photos) which includes NBA Stars, Golf Celebrities, and of course our very own Filipino Pride Paeng Nepomuceno, Efren Bata Reyes and Manny Pacquiao.
Snaps Sports Bar is lined with individual booths which can seat around 6-8 people which is perfect for an intimate and private group conversations between friends and colleagues. If you are feeling chatty or social, you may opt to seat on the bar of course to meet and greet other sports fanatic. There's a mini golf, billiard table, a foosball table, a cigar making area, and of course multiple big screen televisions which shows different sports channels like boxing, rugby, basketball, baseball, football, tennis, golf, auto sports and a lot more. There is definitely something for everyone in Snaps Sports Bar.
Same with the ambiance, the food was equally awesome – And the drinks too! They have a wide assortment of cocktails and imported beers to choose from. Like I said, Snaps offers mostly comfort food so most items on the menu revolve around meat – burgers, pizzas, sausages and the likes.
Free popcorn for starters! 🙂 A different flavor is served daily…
A perfect way to start a conversation is a round of drink. One unique drink that Snaps offer is their Chocotini (P391++), a martini served in chocolate-lined martini glass. If you are not into cocktails, you can always just go with beer, they have a wide assortment of local and international beers to choose from. Hoegaarden is priced at P283++.
This Nachos was amazing! Why? not only that it has generous toppings of cheese, beef and stuff but it also has some "toppings" in between the nacho shells. It will never run out of toppings for the late comers. 🙂 …BTW the cheese was heavenly.
If you can't decide on what to order for your appetizer then go for the Snaps Combo Platter (P816++). It is a combination of crispy onion rings, perfectly cooked calamari, and tangy buffalo wings.
They were very proud of this one… the Snaps Beef Tenderloin Salpicao (P544++). And they should be… it was really good! The beef was oozing with garlicky goodness and it was very tender! Next time I'm here I will definitely order rice!
Their version of the Hungarian Sausage Sandwich… Snaps Batter Swing P500++. Hungarian sausage served in a hotdog bun garnished with some relish, tomato and cucumber. The Hungarian sausage was definitely good on its own, served with bread and stuff… not much has changed actually.
Another unique item of Snaps is their Tenderloin Burger P783++! If you are tired of eating ground beef patty then this is a new option. A hybrid between a steak and a burger. 200 grams of beef tenderloin goodness served in a burger bun. No need for condiments, the beef is super juicy and you will definitely taste the flavor in every bite.
This pizza was amazing! forgive me for forgetting what's on it but they call it the Snaps Pizza P718++. The freshly baked crust was really good and the toppings was great particularly the tomato base sauce. It definitely packs a lot of different flavors.
To end your meal and to clean you palate from all that meat, a slice of rich mango cheesecake is in order. I love cheesecakes and I love mango so this is a treat. Just the perfect balance of sweetness and cheesiness in every bite.
I have never been to a lot of sports bar before in Manila (I,m not even sure if Hooters count) but I am pretty sure that Snaps is one of the best out there. If you are Jetlagged, Insomniac, or if you want to catch your favorite sporting event live 24/7! Then head out to snaps Snaps Sports Bar at the Sofitel for your sports craving and comfort food needs.
Snaps is open to both in-house guests and walk-in clients. Credit Cards Accepted.
Happy Hour is from 6-9pm Daily! 🙂
More about Snaps:
"Snaps Sports Bar is Sofitel Manila's trendy and casual dining space that caters to sports enthusiasts. Opened on May 8, 2011, coinciding with the then much-awaited bout between Manny "Pacman" Pacquiao and Shane Mosley, Sofitel Manila's desire to open a sports bar that will cater to every Filipino sports enthusiast became a reality. And with that simple goal in mind, the concept for Snaps came to life. Snaps is truly the best representation of Filipino world-class excellence in sports.

As proof, immortalized on its walls are murals of two of the greatest Filipino sportsmen: boxing champion Manny "Pacman" Pacquiao and billiards legend Efren 'Bata' Reyes, along with two other famous Filipino athletes; international Filipino champion bowler Paeng Nepumuceno and football star of the now famous Azkals, James Younghusband. Aside from these renowned Filipino sports legends, other sports icons featured include NBA players Kobe Bryant, LeBron James and Michael Jordan; controversial golf star Tiger Woods; boxing legends Muhammad Ali and Mike Tyson, swimmer Michael Phelps, China's table tennis wonder Ma Lin; tennis superstars Roger Federer and Maria Sharapova; and billiard masters Mark Shelby, Ali Carter, Neil Robertson and Stephen Hendry.

Today, Snaps continues to show the hottest sporting events via live telecast like the Barclays Premier League, Formula 1 Gran Premio de España Santander 2012 and the most recent major sporting event – The 2013 British and Irish Lions Tour to Australia.

For an added recreational treat, a pool table and foosball machine are available. Likewise, add hip music, your favorite drink in hand and gourmet comfort food to the mix, and you're all set to let the good times roll."
Hanggang sa muli! Paalam!
_________________________________
By: DENCIO
Originally Posted On: DENCIO.COM
Do You Like This Post?
Subscribe to the RSS Feed
Follow me on Twitter
Like us on Facebook
Email Me
Read More Posts HERE