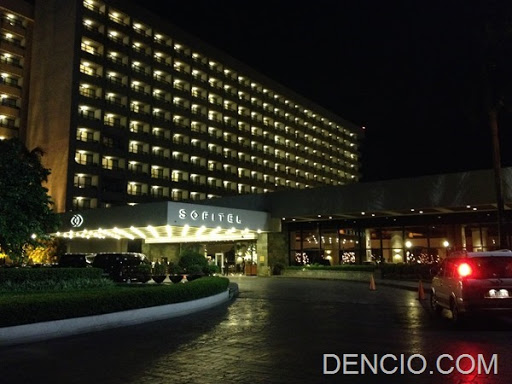 Although they already provided a short official statement via Facebook a couple of week ago, Sofitel Manila wants to address and explain their side (once and for all) on several lingering issues about their hotel. I wont bore you with a long read. I will keep this as short as possible.
"But before everything else, to properly disclose my side on this issue, I have not received any communication from UNTV and/or its affiliates regarding their (official) side of the story. All the information that I gathered about this issue were from online and TV news. I do not work for Sofitel and/or its affiliates, I love their buffet and I have friends working there but that is about it. My blog is open on getting the official statements of UNTV as well on this issue."
(photo grabbed from Daniel Razon's Facebook)
As of the time of writing, we are now officially on #Day22.
It happened so fast. Hashtags Galore! I have friends in Facebook who were not even that active in Social Media then all of a sudden they were posting these hashtags every day, several times a day. What's happening? Everything started out of curiosity, so I checked online on what's the deal… and so there's that. In a nutshell, UNTV is not a part of the official channel line up of Sofitel Manila and they [UNTV] feel that they were being discriminated by that action or lack thereof from Sofitel. (Was I able to concisely describe the issue?)
#NotoSofitel and #BoycottSofitelPH is now on #Day22 there's no sign of stopping. Daily trends on twitter mind you!
While UNTV (and its affiliates) are very vocal about their issues on social media, TV, and Radio, Sofitel on the other hand (apart from a short statement a couple of weeks ago) was basically mum about the issue… Until a few days ago at least where their General Manager Adam Laker himself explained their side of the story. Note that I will paraphrase to shorten the statements.
Issue 1: "For Violating Senior Citizens Rights."
This was not an intentional violation of rights issue but rather a misunderstanding on the interpretation of the rights of the Senior Citizens together with the Hotel Policy and the Promo Policy under the Accor Membership Program. This was then subsequently resolved out of court and the hotel (Sofitel) is now working with the hospitality industry here in the Philippines and the Department of Trade and Industry (DTI) on how to properly, officially and uniformly handle these cases.
Issue 2: "For Discriminating Fellow Filipinos."
According to Sofitel, they do not discriminate anyone from entering or using the club lounge. However, please keep in mind that there is a strict hotel policy that only club members or guests staying in club rooms can access the lounge. Also, the lounge serves alcohol, kids are not allowed inside for this reason and also that the lounge is an adult place. So even if you are a nanny on scrubs – if you are staying in a club room and your "alaga" is not with you, then by all means, enjoy the amenities of the club lounge.
Issue 3: "For Intentionally Delisting UNTV from its Channel Lineup."
Bluntly, "it was never there in the first place."
Sofitel uses this IPTV technology to provide TV channels to the TV sets in their hotel rooms. This system is different your typical cable service where there are pre-selected channels upon subscription. At any given time, their TV's have 56 channels on its line-up, if you remove one, you can add a new one and vice versa. Sofitel Management choose the best channel line up according to market demand, guest feedback and of course proper balance between News, Lifestyle, Sports, Movies, Local TV, Kids Channel, and Foreign Channels. They review this line-up regularly to check the least and most watched channels and to add new ones. GM's example, when they noticed that the number of South Korean guests are picking up, they decided to add more South Korean Channels to their line-up for their consumption.
Previously, UNTV had a convention or an event at the hotel. Prior to the event, the organizers requested that if possible, during the course of the event, the Hotel Include UNTV in their TV line-up. Sofitel did as requested. During the duration of their events in the hotel and during the Group's stay, UNTV was available. After the event, it was then removed and the line-up was reverted to the standard TV line-up.
It was like when they had the Pepsi Guys checked in for an event. They requested for the minibar and restaurant sodas to be Pepsi instead of Coke during their stay. Sofitel did that too.
In short, it was never the intention of the Hotel to discriminate or single out a particular channel. The existing channel line-up was a result of a business decision which every hotel makes. And the fact is, they are not the only 5-star hotel in the Philippines where UNTV is not part of the official channel line-up.
More from Adam Laker, yes there was a formal request from UNTV to include UNTV on the hotel's channel line-up. He got the email and replied asking for more information about the group – Demographics – Which is the best way to make a business case if you have to make changes. He never got a reply from the Group.
My personal take on this:
The way I see it, all they need is Open Communication! They are all adults and professional group of people. A simple sit down meeting between both parties would have helped a lot in the quick resolution of their issues. Call, Sit Down, Talk, Decide, then Move on. I'm sure all the affected people from both sides have more important things to do with their life than this.
If you want to read more and for a complete transcript of Mr. Adam Laker's statements, you may visit my
Friends Blog HERE
.
Sabi nga ni Krissy… Love Love Love! :p
Hanggang sa muli, Paalam!
_________________________________
By:
DENCIO
Originally Posted On: DENCIO.COM
Do You Like This Post?
Subscribe to the RSS Feed
Follow me on Twitter
Like us on Facebook
Email Me
Read More Posts HERE