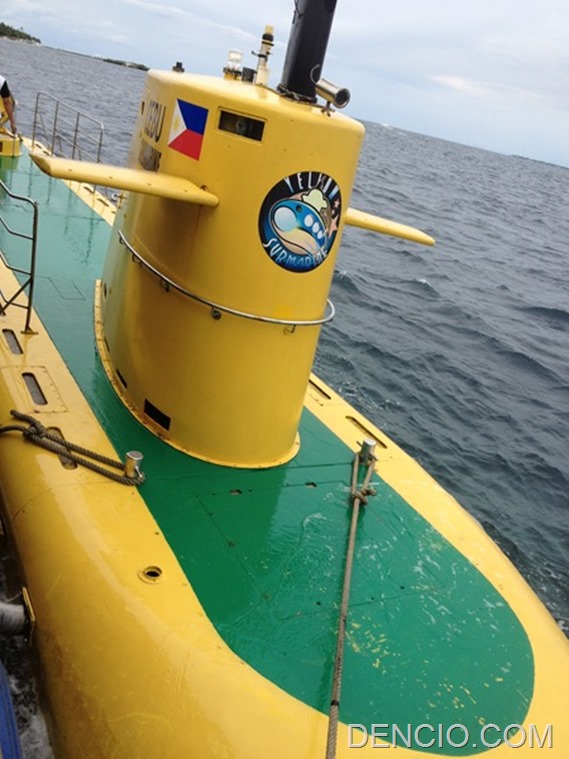 It is real! And yes, it is called the Yellow Submarine! You can ride an actual submarine here in the Philippines and it is in Cebu! Here's a quick back story… I was vacationing at Bluewater Maribago Resort last July and while we were walking on the beach we were told by some guys from the resort pointing at a distant resort "kita mo yun? Submarine yun!"  And something inside me sparked! I need to ride that submarine!! But unfortunately, we were pressed for time that vacation so I was not able to do it. But I was really really excited! Do you know anyone who have ridden a submarine? A real Submarine?! I know right! Super exciting!!
Luckily I have another Cebu Trip to Attend a Birthday Party in a few weeks so I made sure I include the submarine ride in my itinerary. The ride is very very in demand since there are only several trips per day and the submarine can only accommodate a maximum of 48 people at a time so you better call to reserve and don't ever come in late… you should be at the Yellow Submarine Reception area at the Imperial Palace Lobby at least 15-30 minutes before your dive.
Upon reaching the reception area, check for your reservations and pay the cashier P1,200 for the ride. Currently they only accept cash payments. After the payment, you will be issued your tickets and you will then need to proceed to the introduction area near the beach. You can either walk going there or ride one of their golf-cart shuttle.
After the introduction, you will then be ushered in to the waiting area where you need to sign a manifest (similar form if you a riding a ferry) why? because the ride is also being supervised by the Philippine Coast Guard. It's a Submarine!! It might sink! 🙂
While waiting for the submarine to return from its trip, you can actually see it ascend from the water. A super cool thing to watch!
When it is time for your ride, your picture will be taken by their official photographer on top of the submarine. It is not mandatory to buy your pictures afterwards but for only P150 (without frame) and P300 with frame, It is a good deal! Moving on… You will enter through this hole at the top of the submarine and inside you will sit side by side with the other guest along the sides of the submarine.
I am a bit claustrophobic so I was really scared on what is going to happen, there is definitely no panic button to end this ride in case I get a panic attack or something…. but I survived! The pressure inside the sub was really good and balanced. No need to pass out or cut the ride short… Anyway, the ride is around 30 minutes and it will be travelling around Mactan Island 35 feet under water. You can actually your actual depth via a LED display inside the sub.
What happened on our ride? Honestly It was a bit boring… there was not much to see apart from a few jelly fish, small fishes and some corals. The current was strong that day so the water was a bit hazy. Towards the end of the ride, there was a  nice bubble show when the submarine slowly ascends from the water. There will also be a couple of divers who will show the guests a puffer fish – which I am not a fan of because they literally push the fish against the window to show a "cute" or "funny" sea creature. Of course it was a treat for the kids but I felt bad for the fish. Look at the image below, do they look funny or happy to you? Probably a bit.. I just hope that they are not in pain.
After the ride, you will be issued a certificate and a chance to buy your photos. The photos are all framed but feel free to tell them that you just want the photo without it.
Overall it was still an awesome experience! An opportunity to ride a real submarine!! It's so Cool!!
Cebu's Yellow Submarine is Located at the Imperial Palace Resort and Waterpark in Mactan.
Here are the rate/price/discount per ride:
Kids 3-5 years old: FREE
Kids 5-12 years old: P800 (Child Rate)
Adults 12 years old and above P1,200 (Adult Rate)
For more details on Cebu's Yellow Submarine Ride (Current Rates, Contact Numbers) See below.
Remember! Don't forget to reserve!! 🙂
Hanggang Sa Muli Paalam!
_________________________________
By: DENCIO
Originally Posted On: DENCIO.COM
Do You Like This Post?
Subscribe to the RSS Feed
Follow me on Twitter
Like us on Facebook
Email Me
Read More Posts HERE