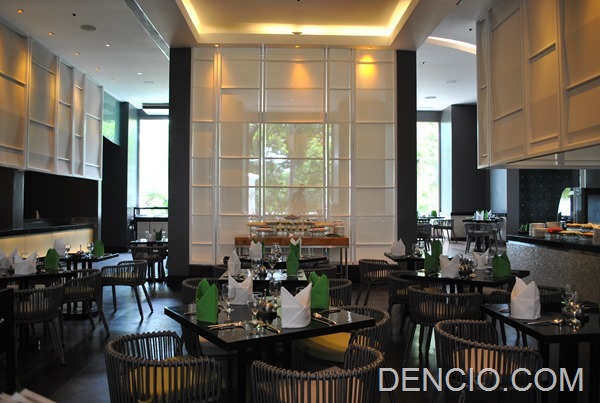 Sails Restaurant (Formerly named "Vanilla Beach Café")
Mövenpick Resort and Spa Cebu
Location/Address: Punta Engaño Road Mactan Island, Cebu Philippines
Contact Number: +63 32 492 7777 (Cebu)
Email: resort.cebu@moevenpick.com | hotel.cebu@moevenpick.com
Website: http://www.moevenpick-hotels.com/cebu
Facebook: https://www.facebook.com/moevenpickhotelmactanislandcebu
Twitter: https://twitter.com/MoevenpickCebu
As part of their re-branding efforts, Movenpick Resort and Spa also changed the name of their Buffet restaurant from Hilton Cebu's Vanilla Beach Café to Sails. The restaurant design and layout remained basically the same and the food… still very good! Sails offer Breakfast and Lunch buffet. This is also the same restaurant where they serve their lunch buffet for the day use package.
Upon entry to the buffet area, you will be greeted by their super friendly staff. The buffet area is your typical small buffet but let me tell you this early, the food was excellent! From the bread to the dim-sum, It was like the food had some secret ingredient that makes it super tasty. The ambiance was very appropriate for a resort setting, not too glamorous yet still elegant and sophisticated. This is perfect for those dining in their resort/beach wear – which is acceptable as long as you are not dripping wet.
I especially enjoyed the soft rolls, the fall-of-the bone beef ribs and the super tasty siomai. Literally, my mouth is still watering right now! So before my keyboard soaks in drool, here are the dishes that were served that Saturday Lunch – the theme of the food that day was Chinese.
Although complete, the buffet at Sails is not that extravagant, however, the majority of what they serve tastes really good which is a good thing since you will be able to try all the dishes that they serve. Also they have a sort of "daily theme" in the main course area of the buffet, for example that Saturday Lunch that I was able to try, they were serving Chinese Dishes in the buffet – Dimsum, Sweet and sour pork, yang chow fried rice and noodles. You must really try their siomai and breads, they were something else.
The best way to enjoy their buffet is via their day use package which I will be featuring soon. But for walk-in's, the Buffet rates and prices for Sails restaurant at Movenpick Cebu are as follows:
Breakfast: P1,000 net
Lunch: P1,200 net
Dinner Buffet is served at the Ibiza Beach Club and is priced at P2,000 and P2,500 with overflowing house wine.
PS: The perfect way to end this meal is by enjoying Movenpick's Famous Coffee! It's really good and it comes with an exclusive Movenpick Chocolate as well. 🙂
Hanggang sa muli, Paalam!
_________________________________
By: DENCIO
Originally Posted On: DENCIO.COM
Do You Like This Post?
Subscribe to the RSS Feed
Follow me on Twitter
Like us on Facebook
Email Me
Read More Posts HERE